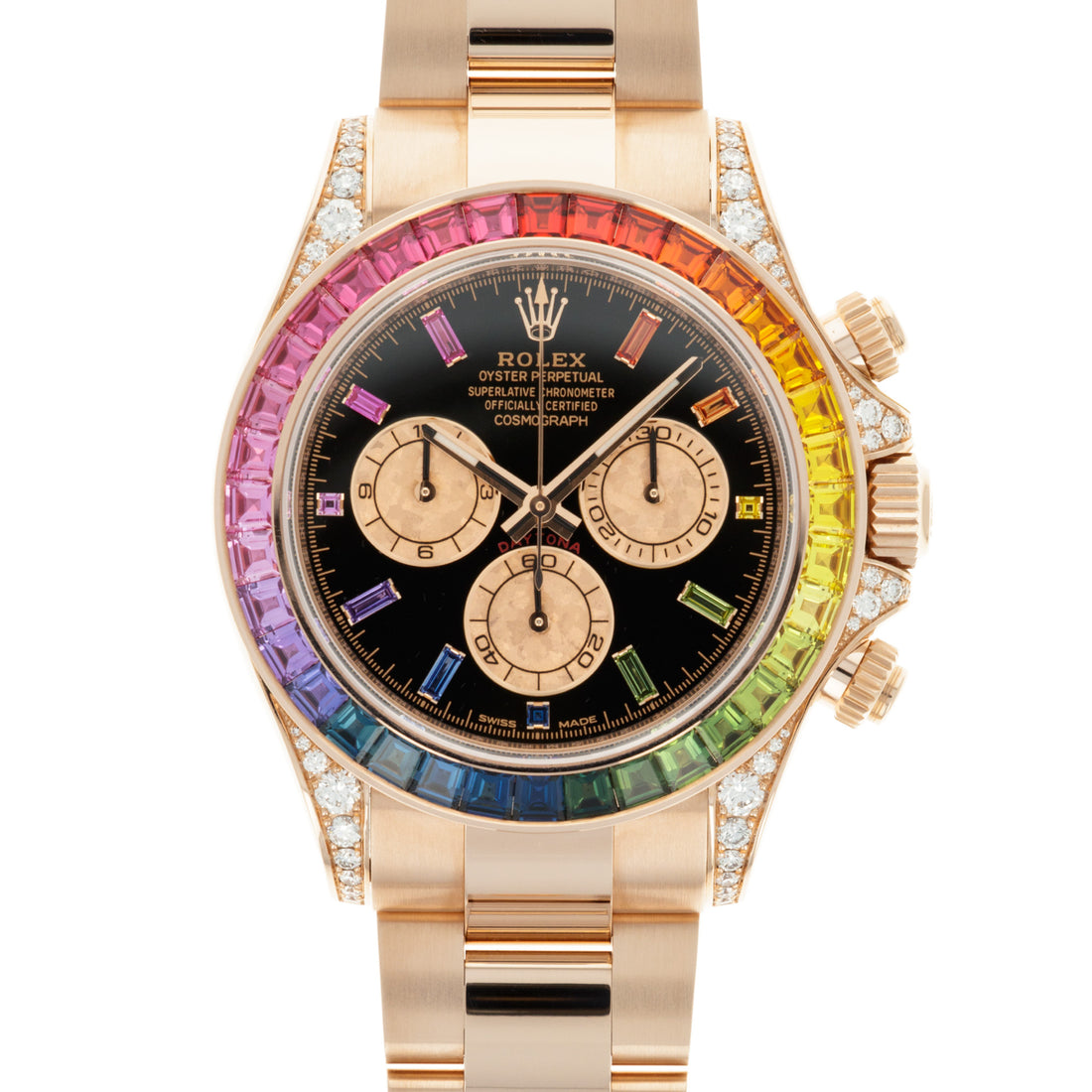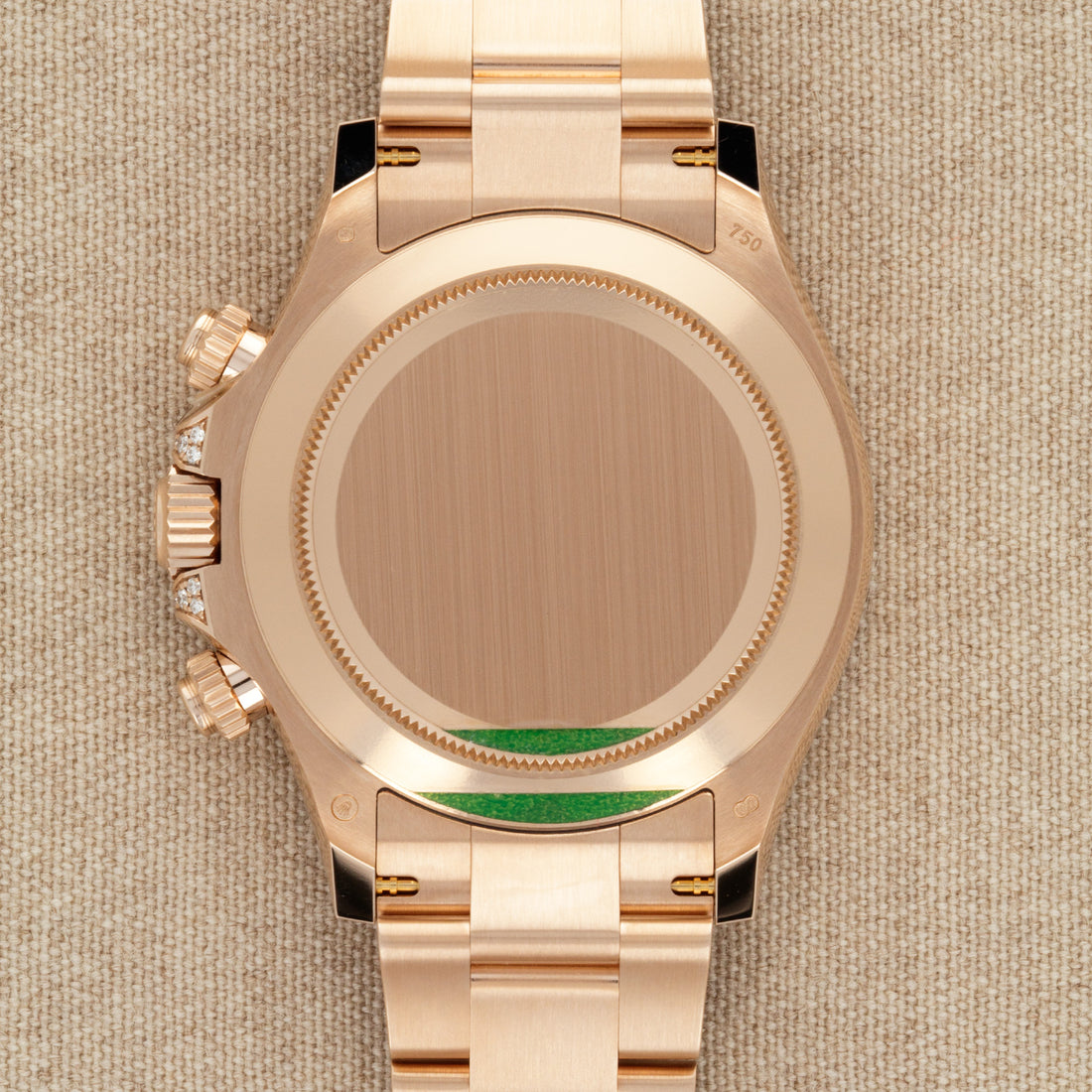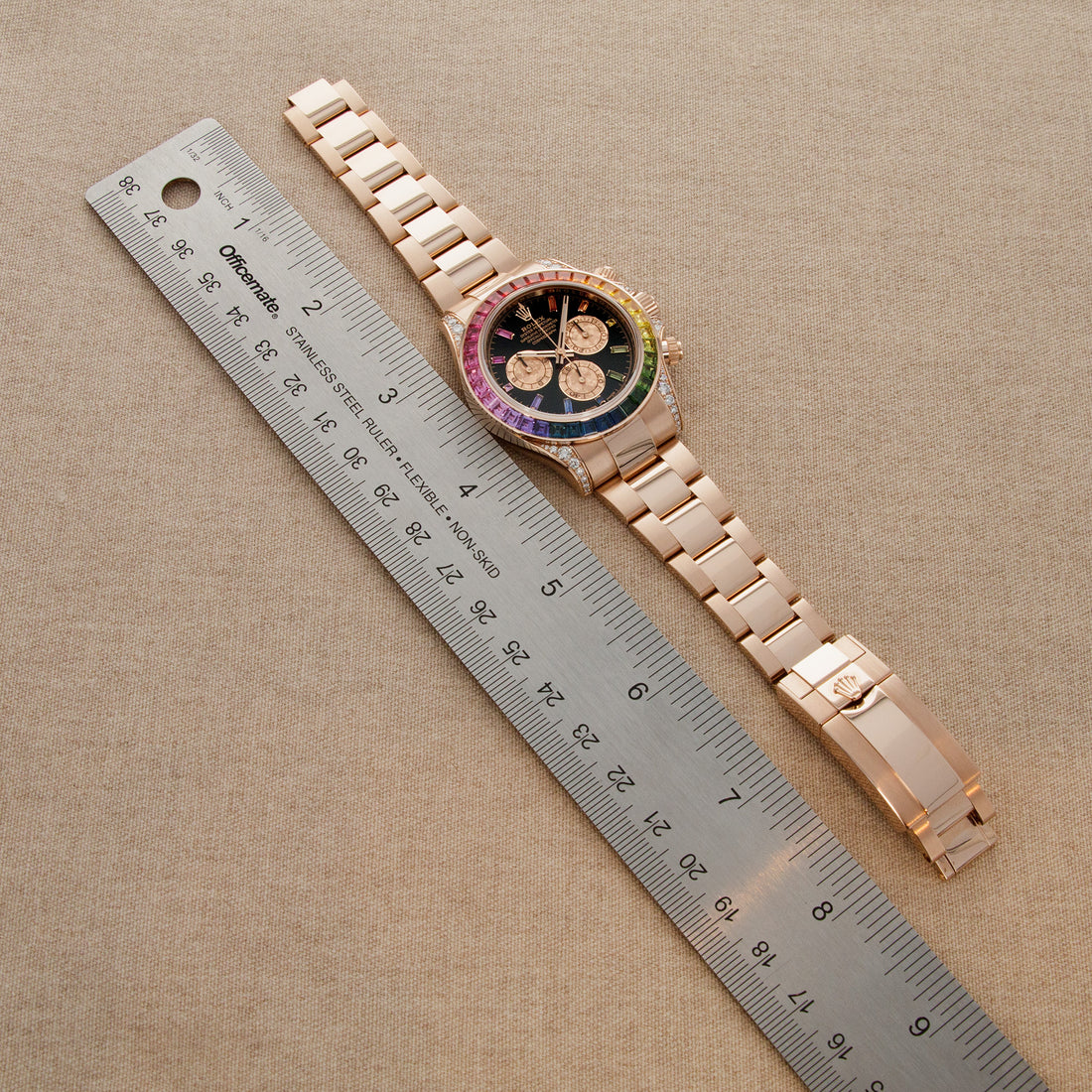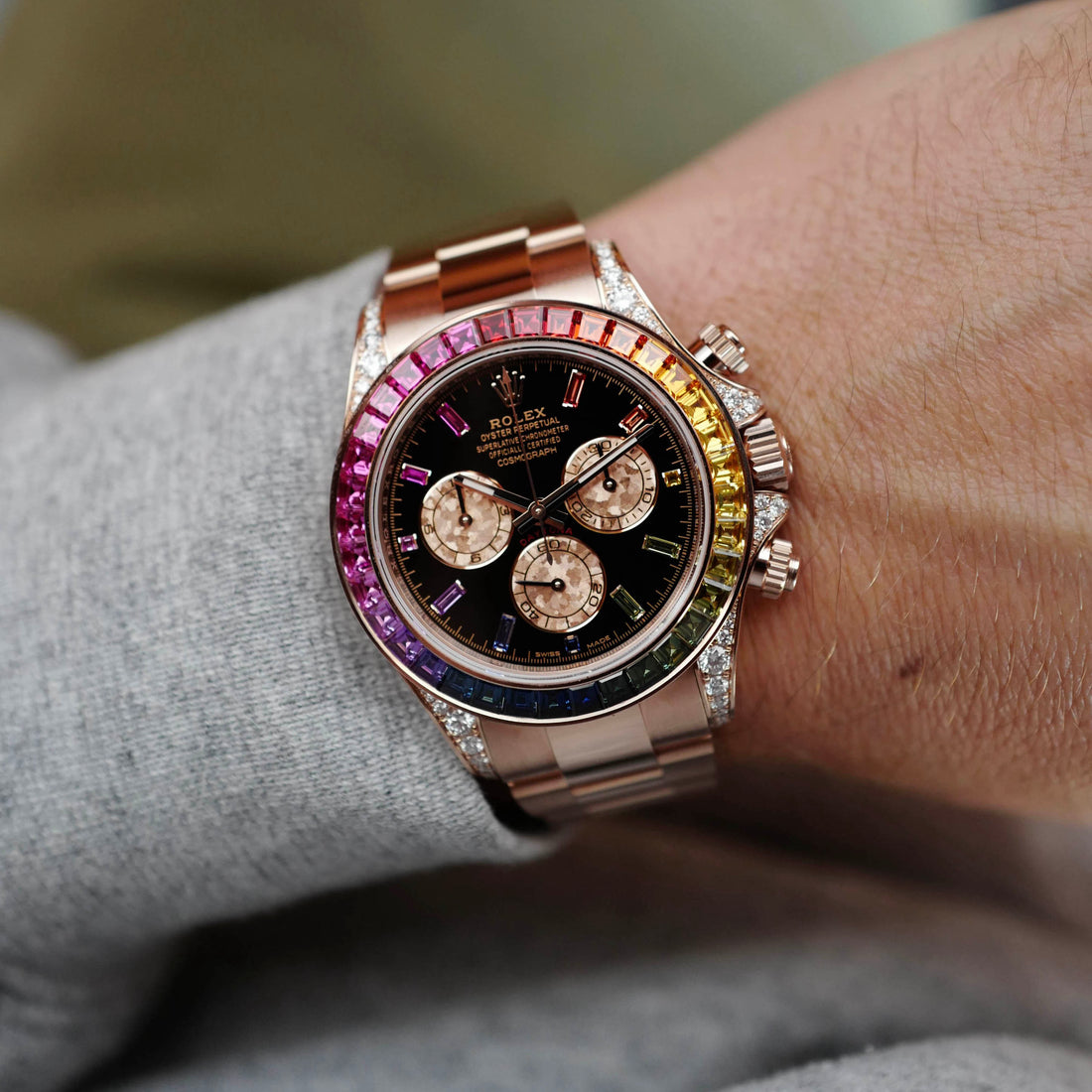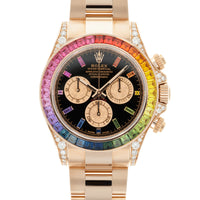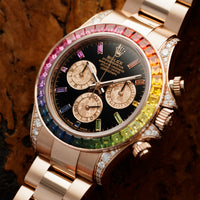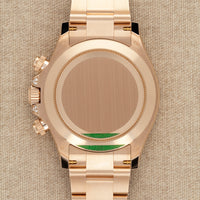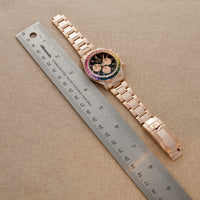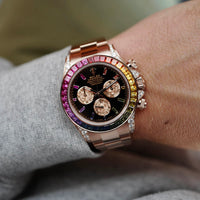 Rolex Rose Gold Cosmograph Rainbow Daytona Ref. 116595
Brand
: Rolex
Model
: Daytona
Reference
: 116595RBOW
Year
: 2019
Material
: 18k RG
Dial Color
: Pave Diamond with Rainbow Markers
Dimensions
: 40 mm
Watch Movement
: Self-Winding
Bracelet/Strap
: Rose Gold
Box/Paper
: Box & Papers
Condition
: Like New, Worn a Few Times
SKU
: 186425
Launched in 2018 and produced in exceedingly small numbers, the Rolex Rainbow Daytona ref. 116595RBOW has become perhaps the most exclusive modern Rolex that exists. Taking the Daytonas sports watch design and utility to completely unchartered territory, the ref. 116595RBOW redefines what a modern Rolex should be as it blurs the lines between their tool watch heritage and their modern pedigree as a luxury watchmaker. Unadulterated luxury at its very core, the ref. 116595RBOW features an entirely 18kt Everose gold construction and a slew of incredible factory-set gems that are deserving to be adored across a timepiece like this. Across its lug hoods and crown guards are 56 brilliant-cut diamonds that sparkle beautifully, and across its bezel is an array of multi-colored gemstones that are arranged in the graduation of the rainbow, as the ref. 116595RBOWs nickname and reference number suggest. Featuring 36 baguette-cut sapphires across its bezel that span nearly every color possible, the reason Rolex produced the ref. 116595RBOW in such low quantities was the difficulty in sourcing the gems required to provide as subtle a change from each color to the next. Echoing the arrangement of its bezel, the example we have here also boasts a pave dial with the same rainbow-colored baguette-cut sapphires set on its hour markers to match the colors found on its bezel. This pave dial is rare in and of itself, with a gloss black dial variant also being produced. A tool watch at heart, the ref. 116595RBOW still features Rolexs legendary automatic cal. 4130 chronograph movement beneath its incredibly luxurious construction, so even with its opulent execution, the ref. 116595RBOW would still be up to the task of taking to the track should you decide to push it to its limits. With the Everose gold variant discontinued in 2022, this timepiece is only going to continue to experience feverish demand as its place as one of the rarest Rolex models ever builds up and teases collectors across the globe.
Please feel free to get in touch with any questions. The best way is to email us at hello@thekeystone.com or text/call (213) 632-9061
If you are interested in selling or trading your watch, please include as much information as possible, as well as photos. You may also email photos to hello@thekeystone.com 
When a watch is purchased, our watchmaker will perform a thorough inspection of the movement and perform a number of tests to ensure the watch is functioning in top condition before shipping. This process can take 7-10 business days. 
Once your watch is ready, watches shipped within the United States are sent via insured FedEx Overnight and will arrive the next day. We will send over tracking information once the watch ships. 
International shipping can take a number of days considering customs and travel. Straps made from exotic materials banned for import will be removed from the watch prior to shipping.
We know it can be difficult be completely certainly that a watch's condition, size or shape is what you are looking for. 
We provide a 5 day inspection period from delivery so that you may receive the watch and decide if it is right for you. 
This is not a trial period; our watches are well documented and any wear or damage will be deducted from the return amount. 
At The Keystone, we accept payment via Credit Card, Bank Transfer and major Cryptocurrency Coins. Please reach out via email with any questions about payment to Hello@thekeystone.com