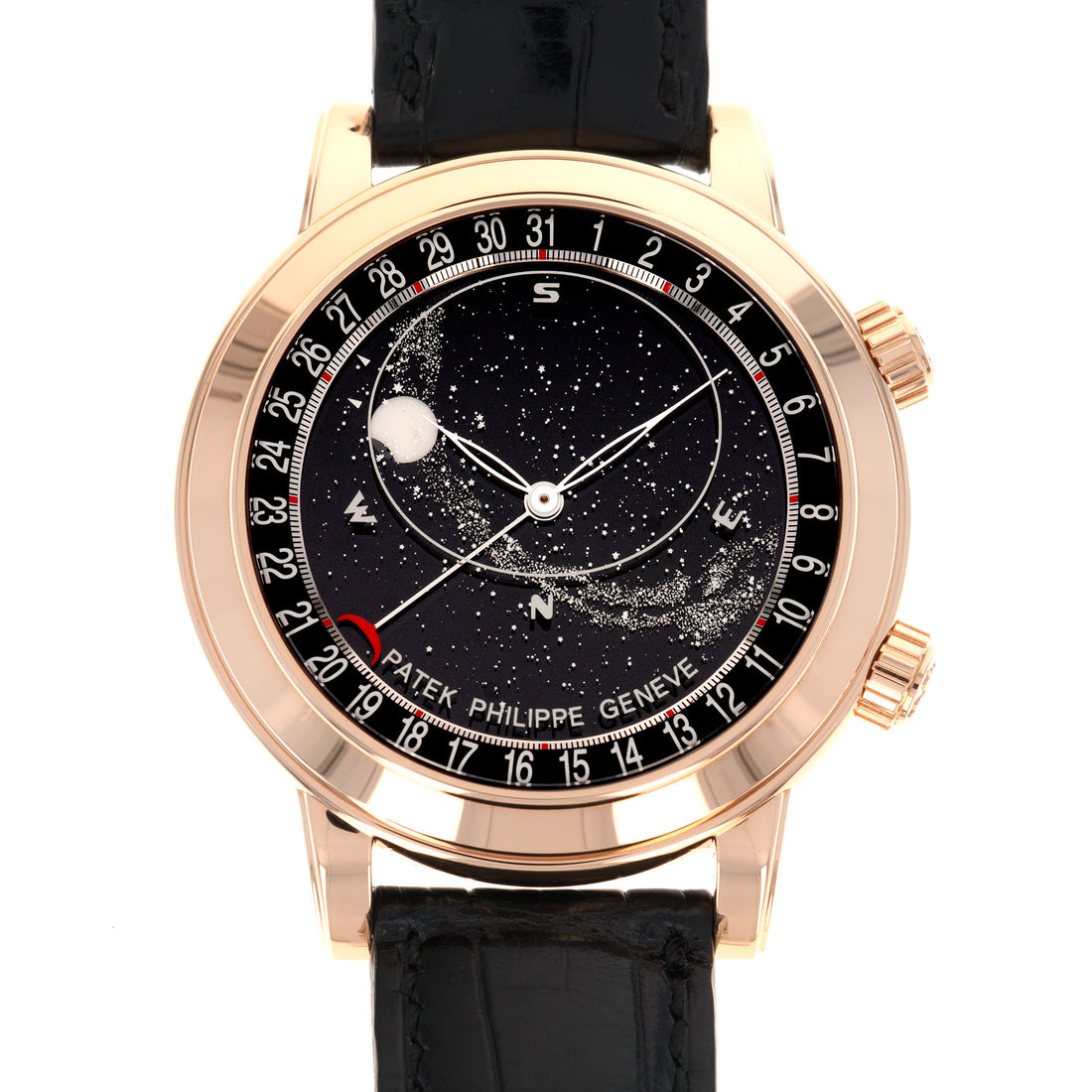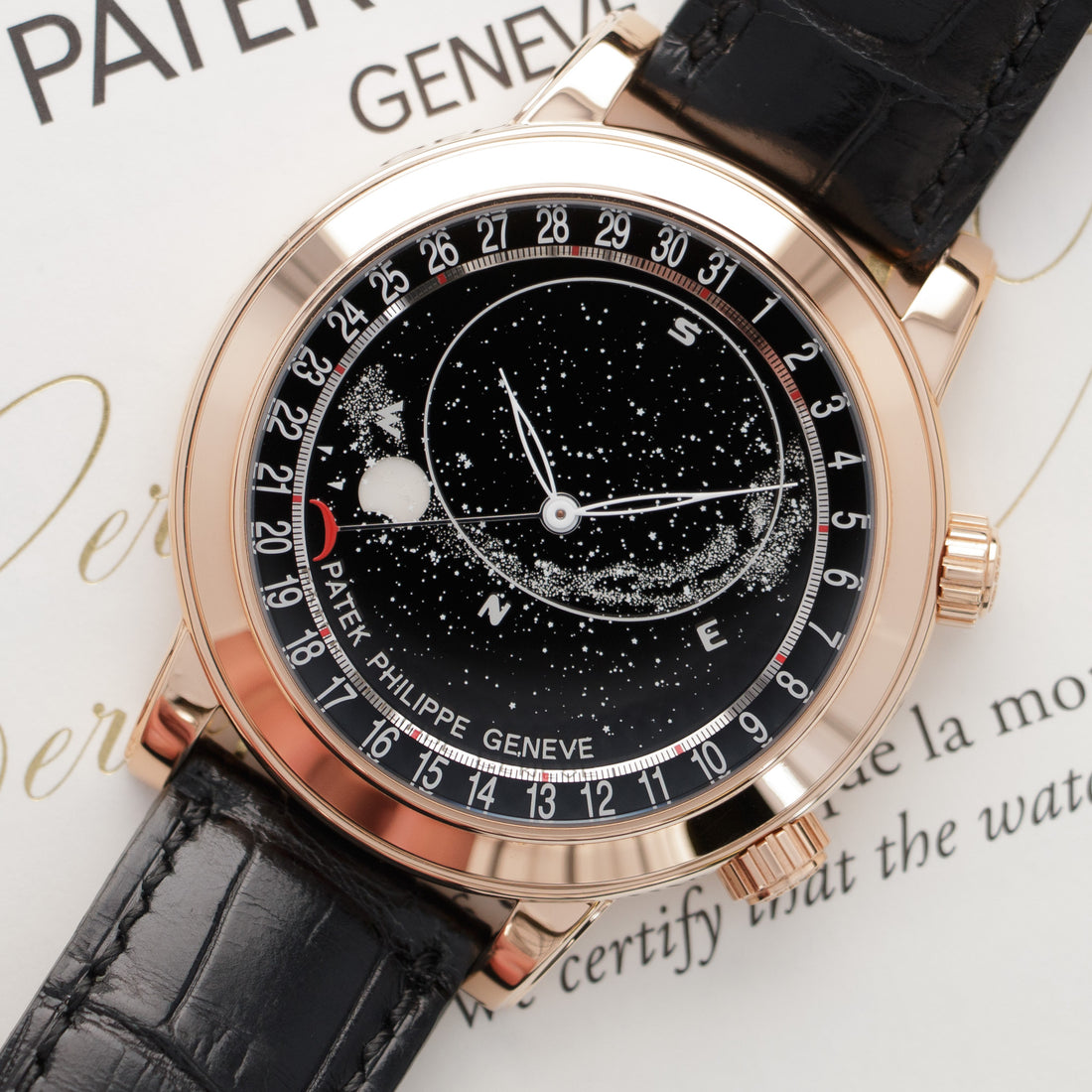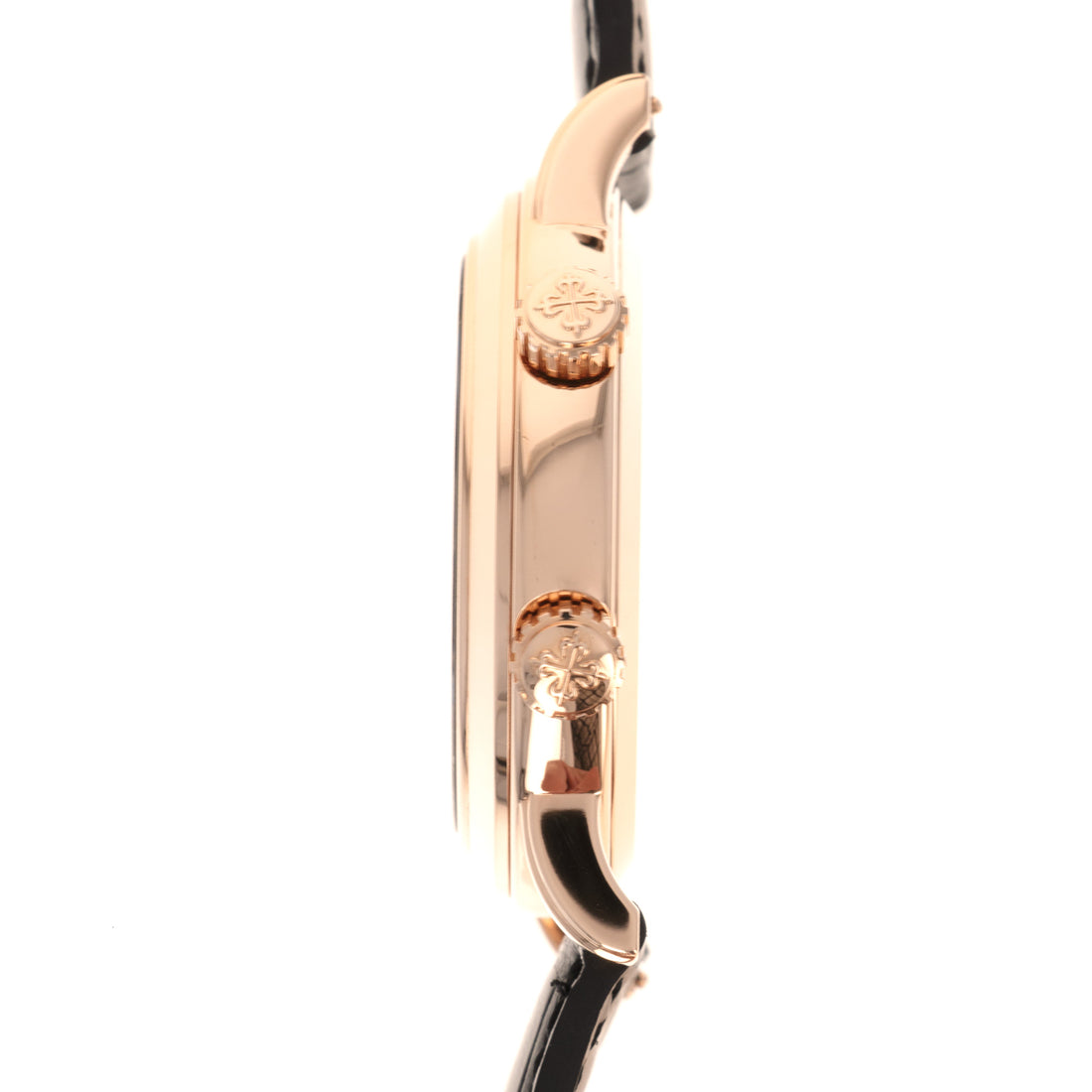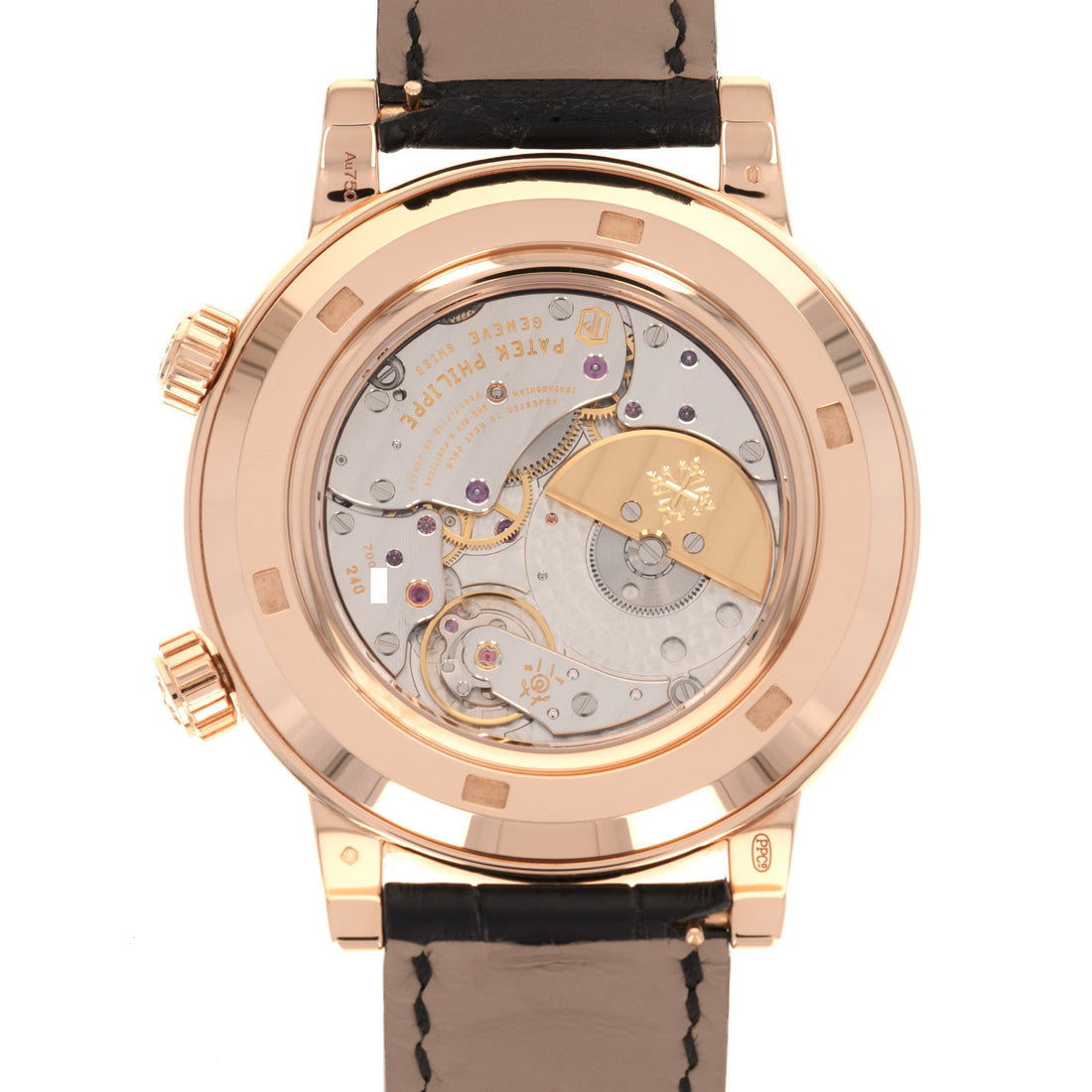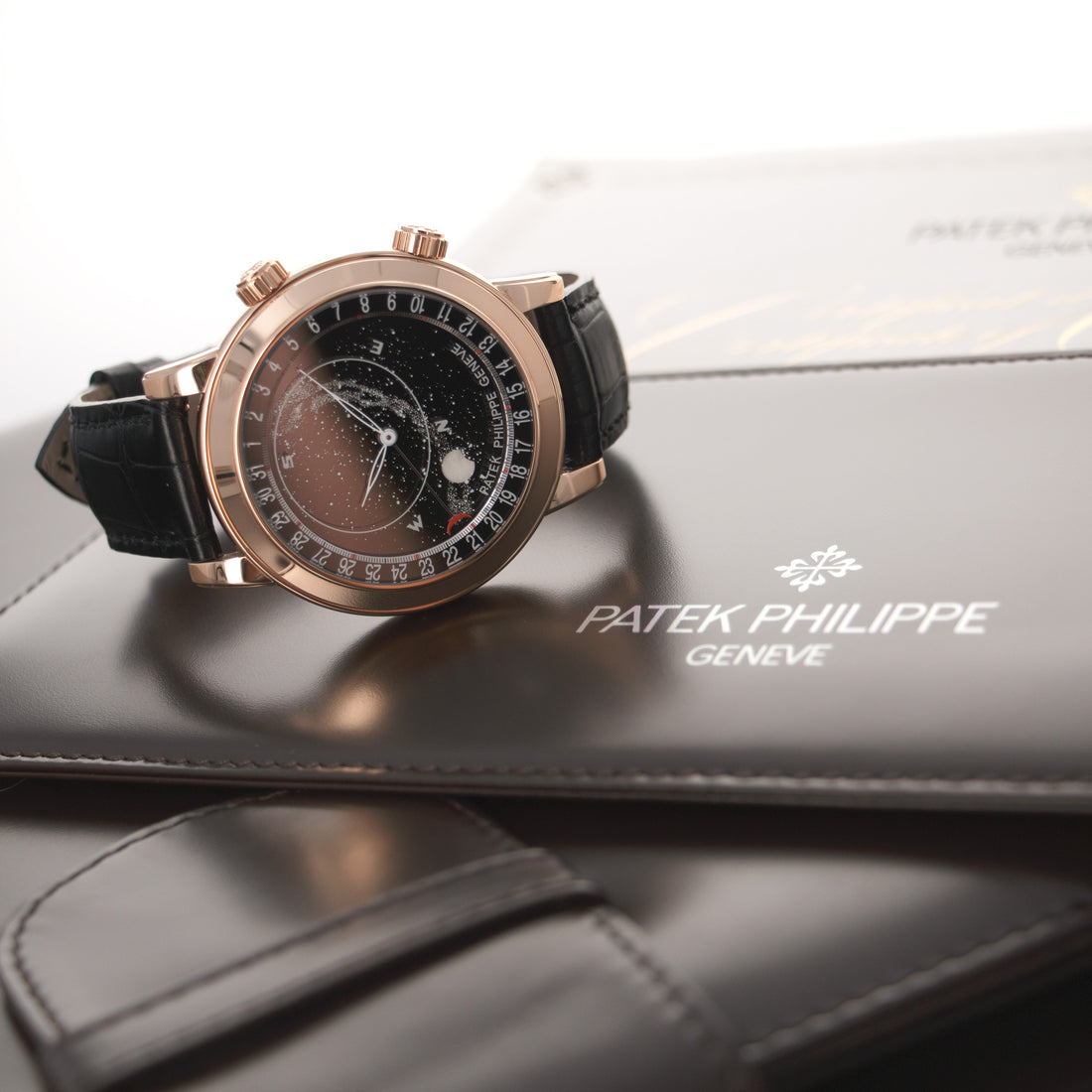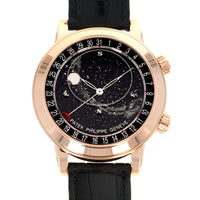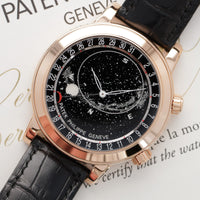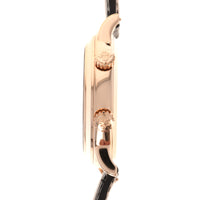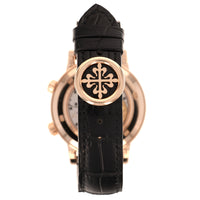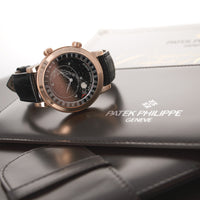 Patek Philippe Rose Gold Celestial Watch Ref. 6102
Brand
: Patek Philippe
Model
: Celestial
Reference
: 6102R-001
Year
: 2017
Material
: 18k RG
Dial Color
: Black with Celestial
Dimensions
: 42mm
Watch Movement
: Self-Winding
Bracelet/Strap
: Black Patek Philippe Strap
Box/Paper
: Original Box and Certificate
Condition
: Like New, Worn a Few Times
SKU
: 155135
The Sky Moon Celestial is certainly one of the most bold, but arguably one of the most beautiful watches made by Patek Philippe. These references feature the nights sky and moon phases, which rotate slowly around the dial as the stars above change in the nights sky. While many watches track the seconds, minutes and hours of our lives; the Celestial is for the dreamer looking far in to the future. These watches are some of the most sought after and stunning complicated Patek Philippe watches. This 6102R is in like-new condition and comes complete with the original box and paper.
Please feel free to get in touch with any questions. The best way is to email us at hello@thekeystone.com or text/call (213) 632-9061
If you are interested in selling or trading your watch, please include as much information as possible, as well as photos. You may also email photos to hello@thekeystone.com 
When a watch is purchased, our watchmaker will perform a thorough inspection of the movement and perform a number of tests to ensure the watch is functioning in top condition before shipping. This process can take 7-10 business days. 
Once your watch is ready, watches shipped within the United States are sent via insured FedEx Overnight and will arrive the next day. We will send over tracking information once the watch ships. 
International shipping can take a number of days considering customs and travel. Straps made from exotic materials banned for import will be removed from the watch prior to shipping.
We know it can be difficult be completely certainly that a watch's condition, size or shape is what you are looking for. 
We provide a 5 day inspection period from delivery so that you may receive the watch and decide if it is right for you. 
This is not a trial period; our watches are well documented and any wear or damage will be deducted from the return amount. 
At The Keystone, we accept payment via Credit Card, Bank Transfer and major Cryptocurrency Coins. Please reach out via email with any questions about payment to Hello@thekeystone.com