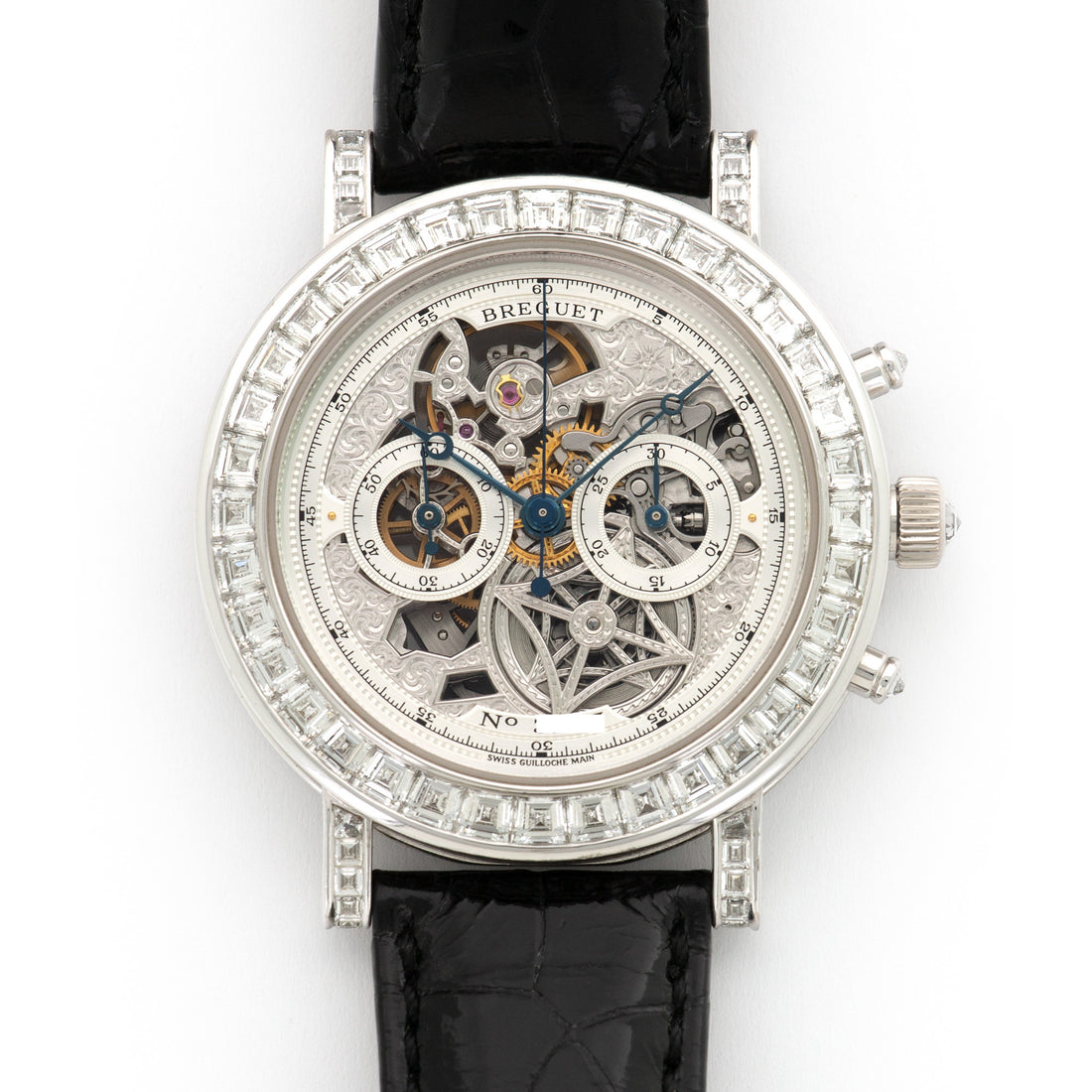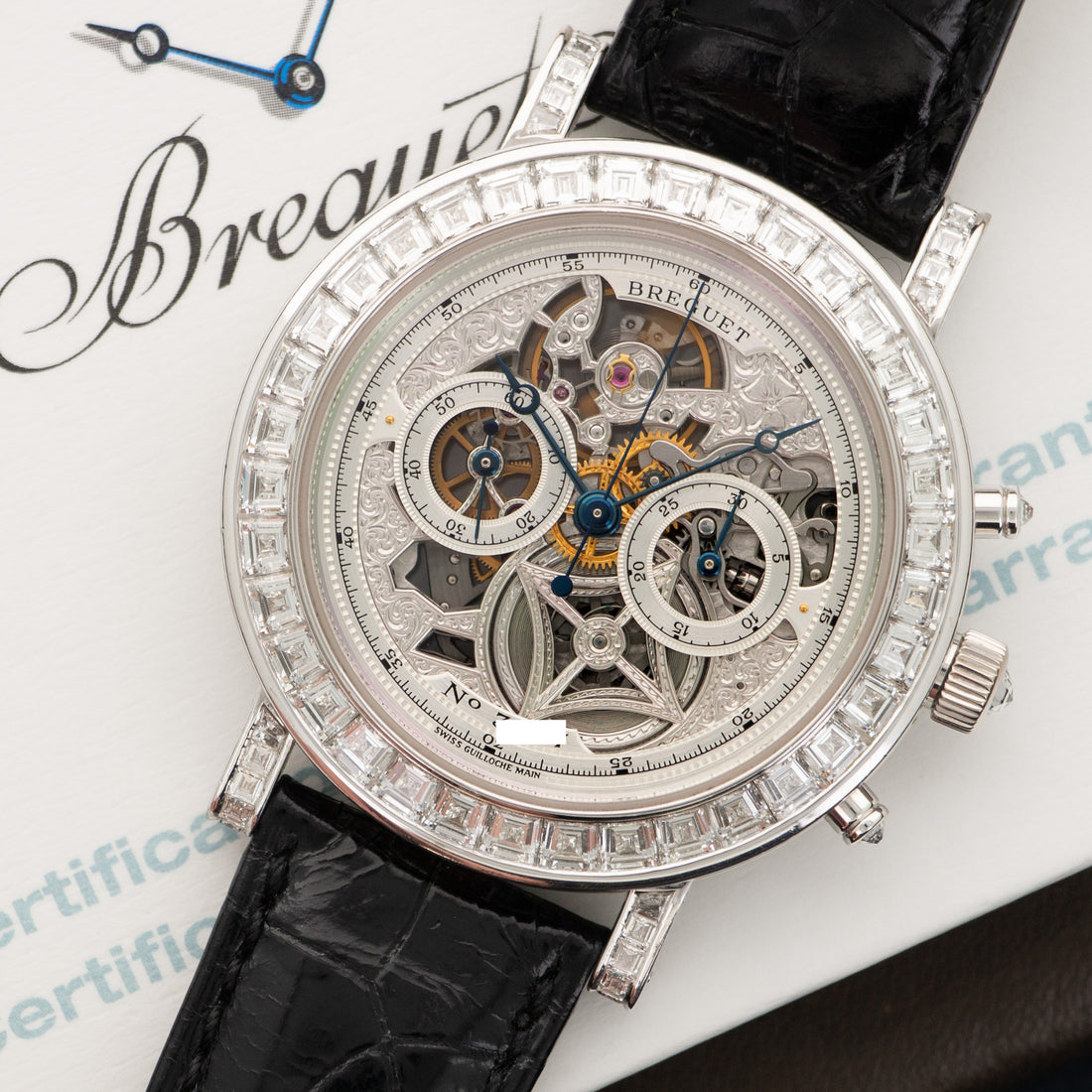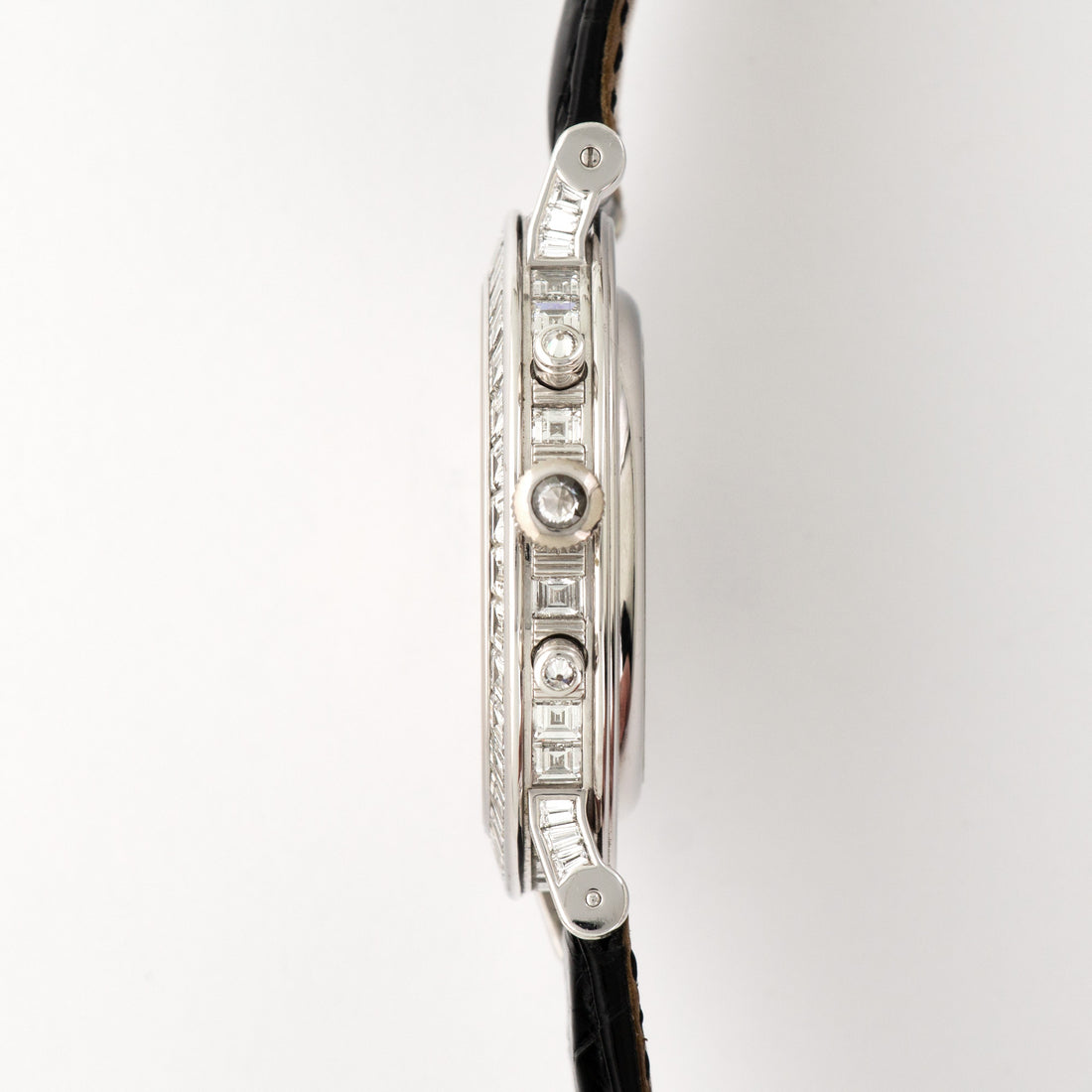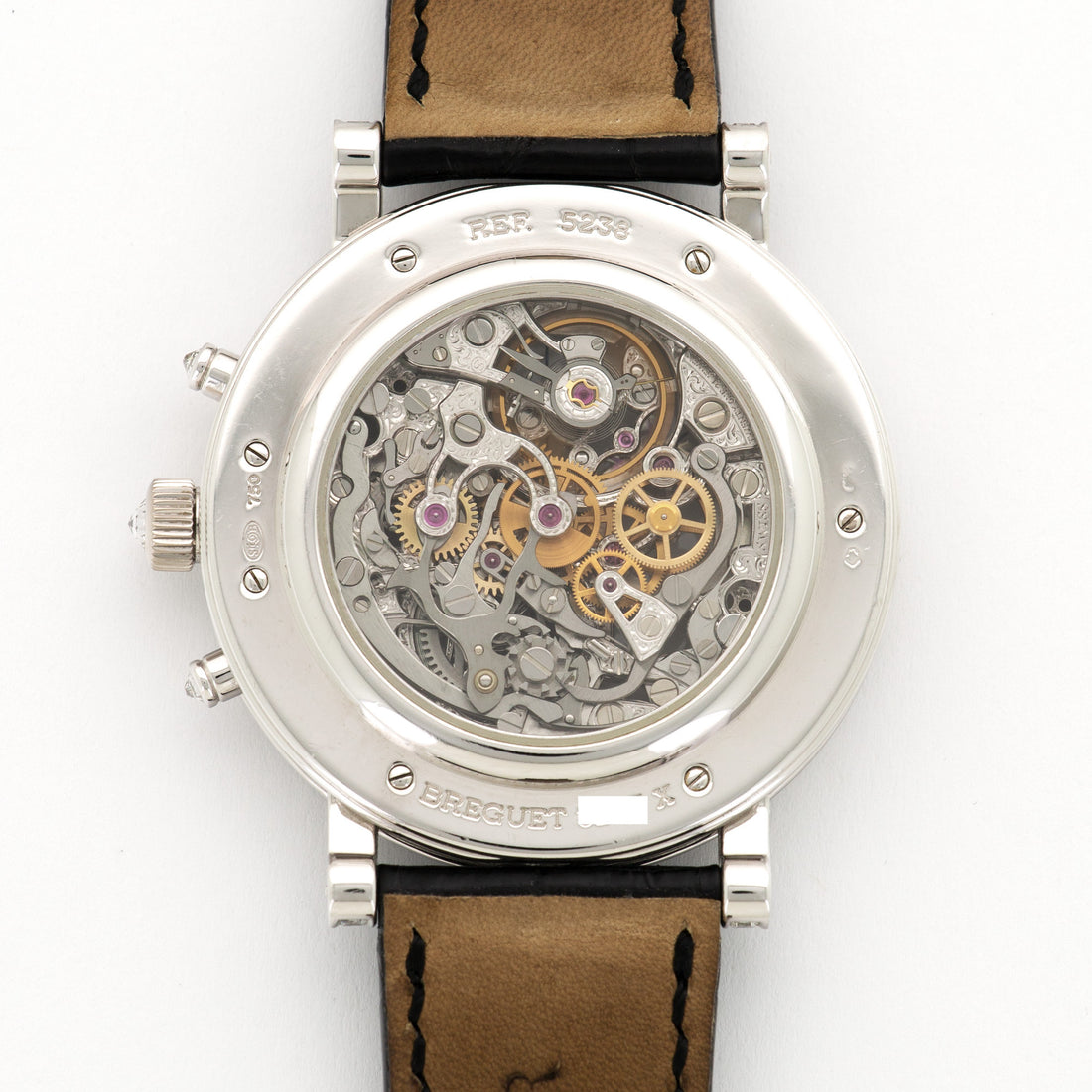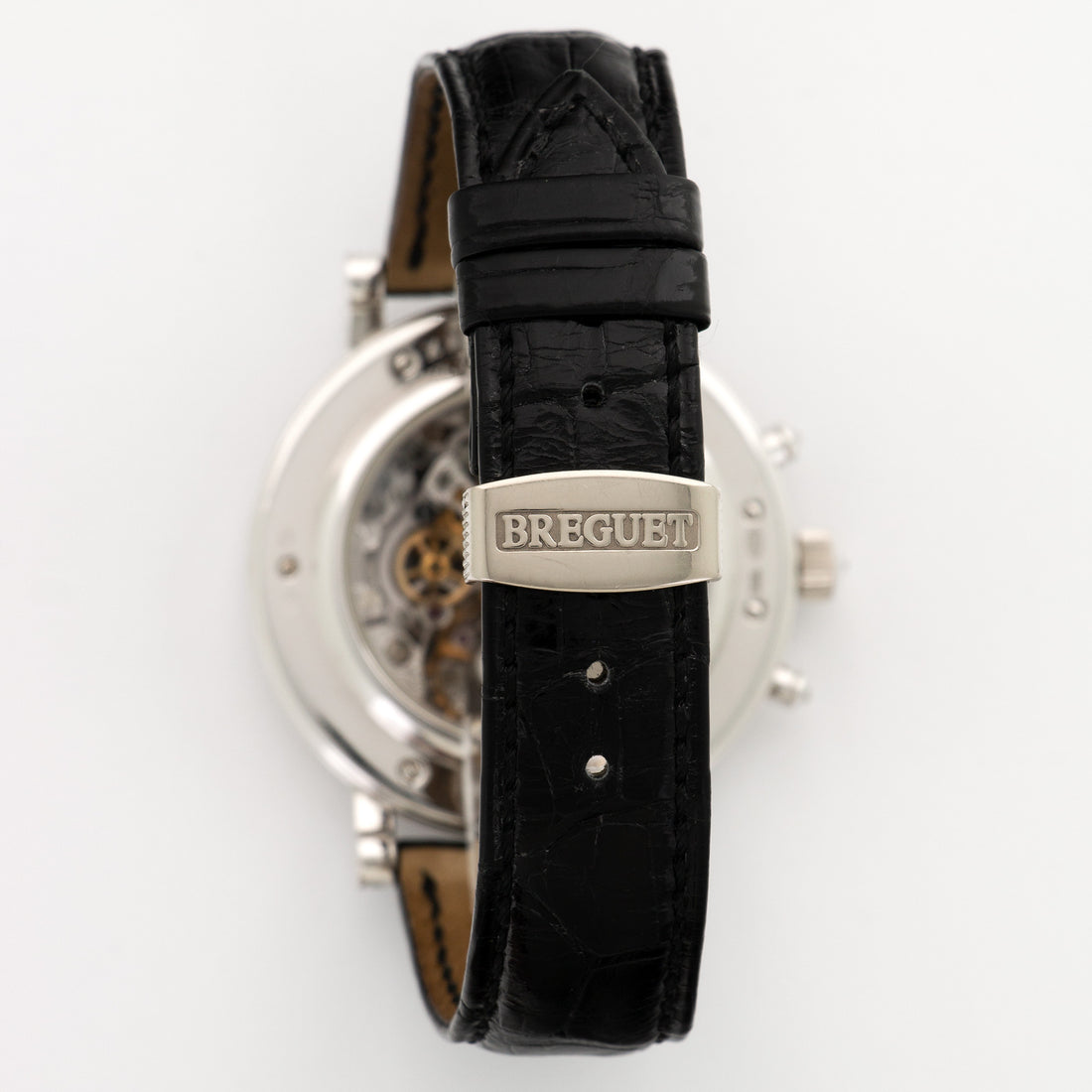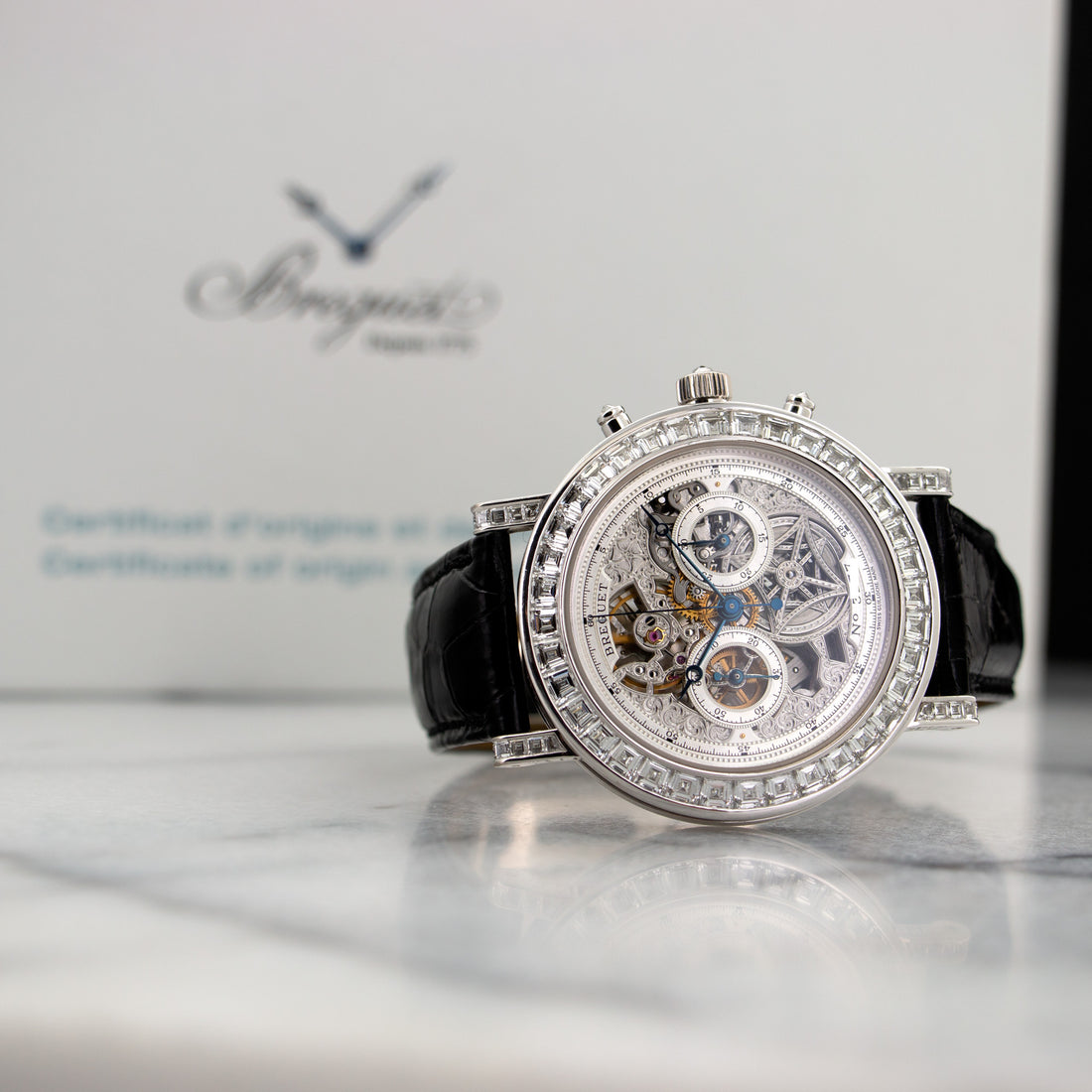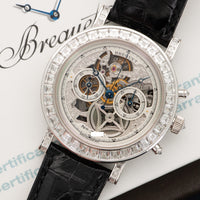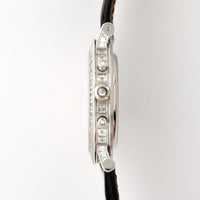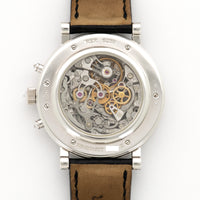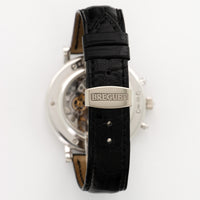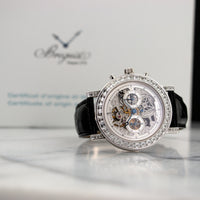 Breguet White Gold Chronograph Skeleton Baguette Diamond Watch
Brand
: Breguet
Model
: Chronograph
Reference
: 5238BB/10/9V6.DD00
Year
: 2013
Material
: 18k WG
Dial Color
: Skeletonized
Dimensions
: 41mm
Watch Movement
: Manual-Wind
Bracelet/Strap
: Black
Box/Paper
: Original Box and Certificate
Condition
: Excellent
SKU
: 146195
One of the oldest watchmakers still in operation and famed for a lengthy list of iconic achievements such as the tourbillon, a type of overcoil balance-spring, their very own style of Arabic numerals and hands, a legendary founder and a plethora of other accomplishments, Breguet has long been one of watchmakings leading innovators. Alongside this ability to push horological boundaries, Breguet has also been able to create timepieces that push the envelope of design, with the Classique standing as a testament to that very fact. Exemplifying their longstanding desire to create precise timepieces with clean and elegant lines, the Classique collection features variants that radiate Breguets traditional artistic values while pushing the boundaries of artistry. Pushing those very boundaries is the Classique variant we have here, the Classique Chronograph Skeleton ref. 5238BB. Constructed of 18kt white gold, it features a perfectly circular case with a silver skeletonized dial atop a skeletonized movement that features some incredibly intricate and elaborate engravings. Highlighting this level of opulence is the Classique Chronograph Skeleton ref. 5238BBs diamond-set bezel and lug hoods which carry a total weight of 13cts across 96 baguette-cut diamonds. Providing an entirely monochromatic aesthetic across its movement, dial, gem-set bezel, and case, the Classique Chronograph Skeleton ref. 5238BB is entirely refined while still exploring artistic values of luxury and opulence while remaining true to traditional horological principles such as fine craftsmanship and exquisite attention to detail.
Please feel free to get in touch with any questions. The best way is to email us at hello@thekeystone.com or text/call (213) 632-9061
If you are interested in selling or trading your watch, please include as much information as possible, as well as photos. You may also email photos to hello@thekeystone.com 
When a watch is purchased, our watchmaker will perform a thorough inspection of the movement and perform a number of tests to ensure the watch is functioning in top condition before shipping. This process can take 7-10 business days. 
Once your watch is ready, watches shipped within the United States are sent via insured FedEx Overnight and will arrive the next day. We will send over tracking information once the watch ships. 
International shipping can take a number of days considering customs and travel. Straps made from exotic materials banned for import will be removed from the watch prior to shipping.
We know it can be difficult be completely certainly that a watch's condition, size or shape is what you are looking for. 
We provide a 5 day inspection period from delivery so that you may receive the watch and decide if it is right for you. 
This is not a trial period; our watches are well documented and any wear or damage will be deducted from the return amount. 
At The Keystone, we accept payment via Credit Card, Bank Transfer and major Cryptocurrency Coins. Please reach out via email with any questions about payment to Hello@thekeystone.com