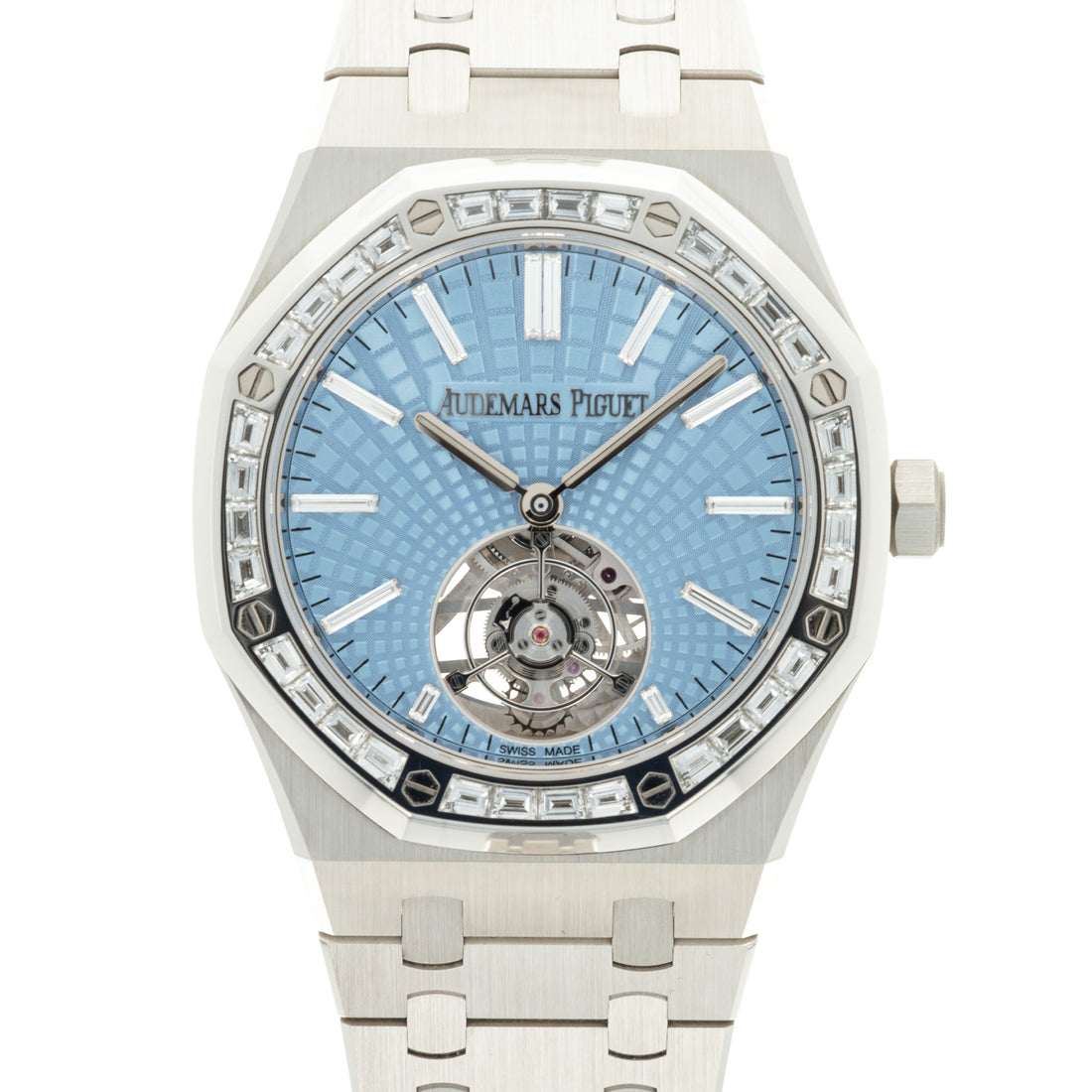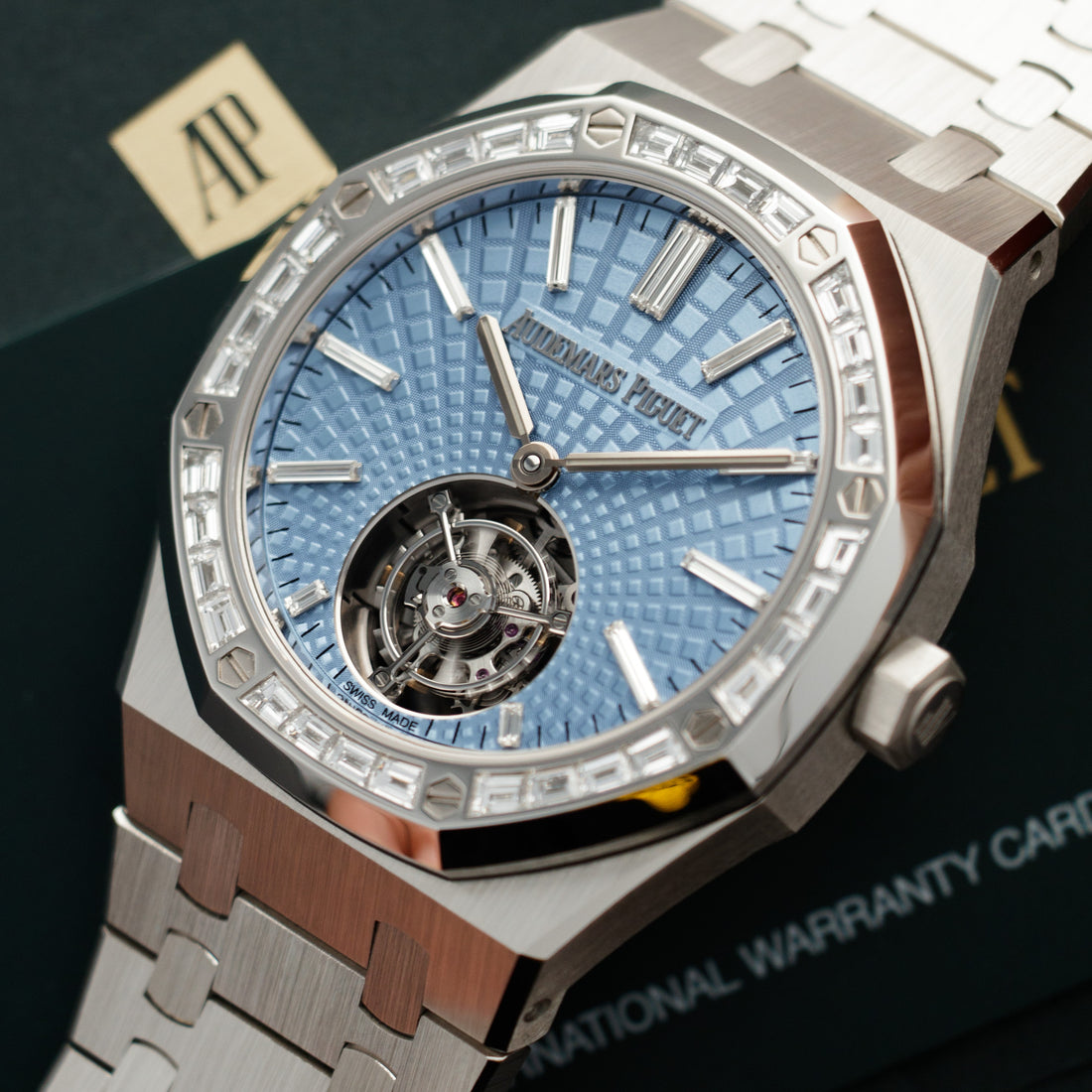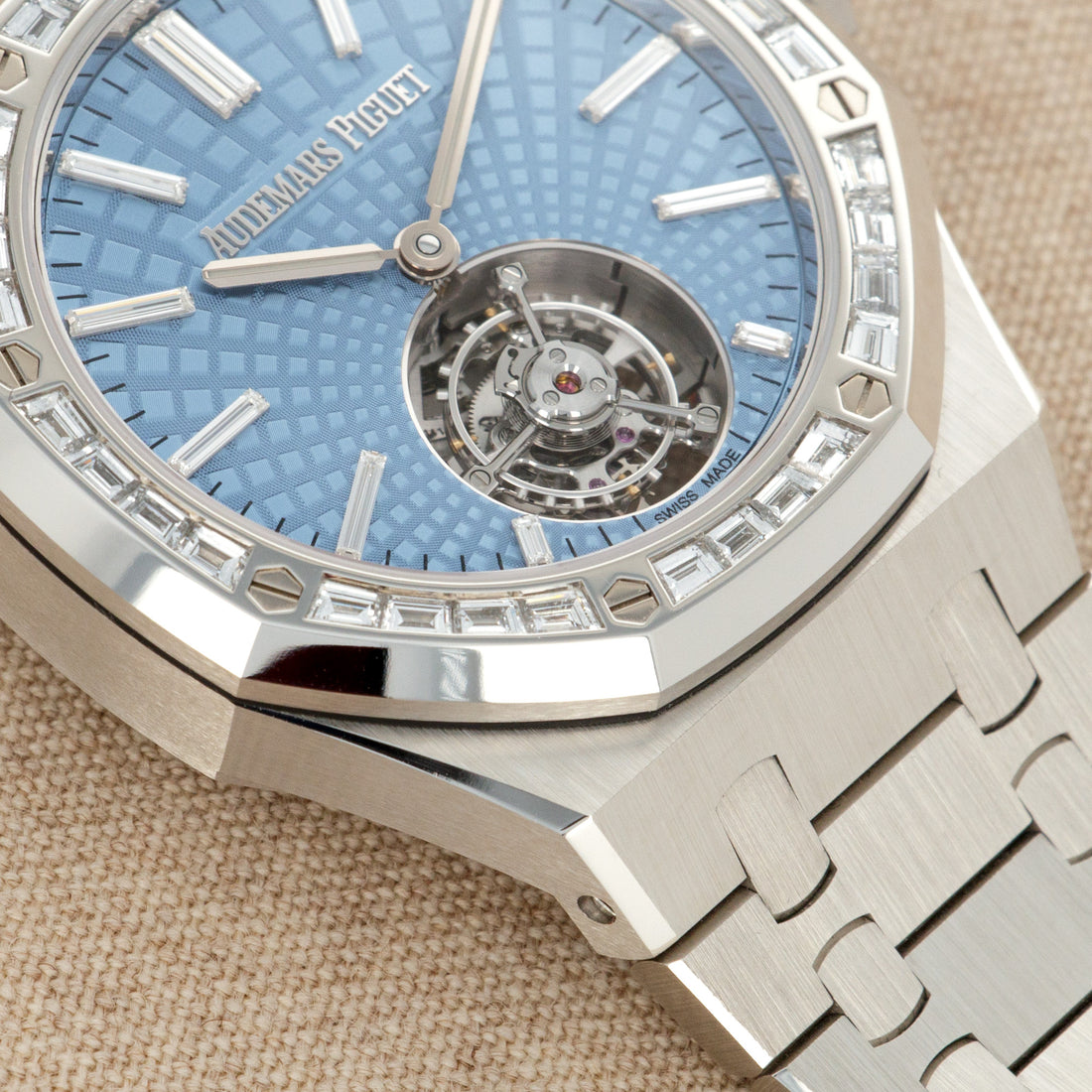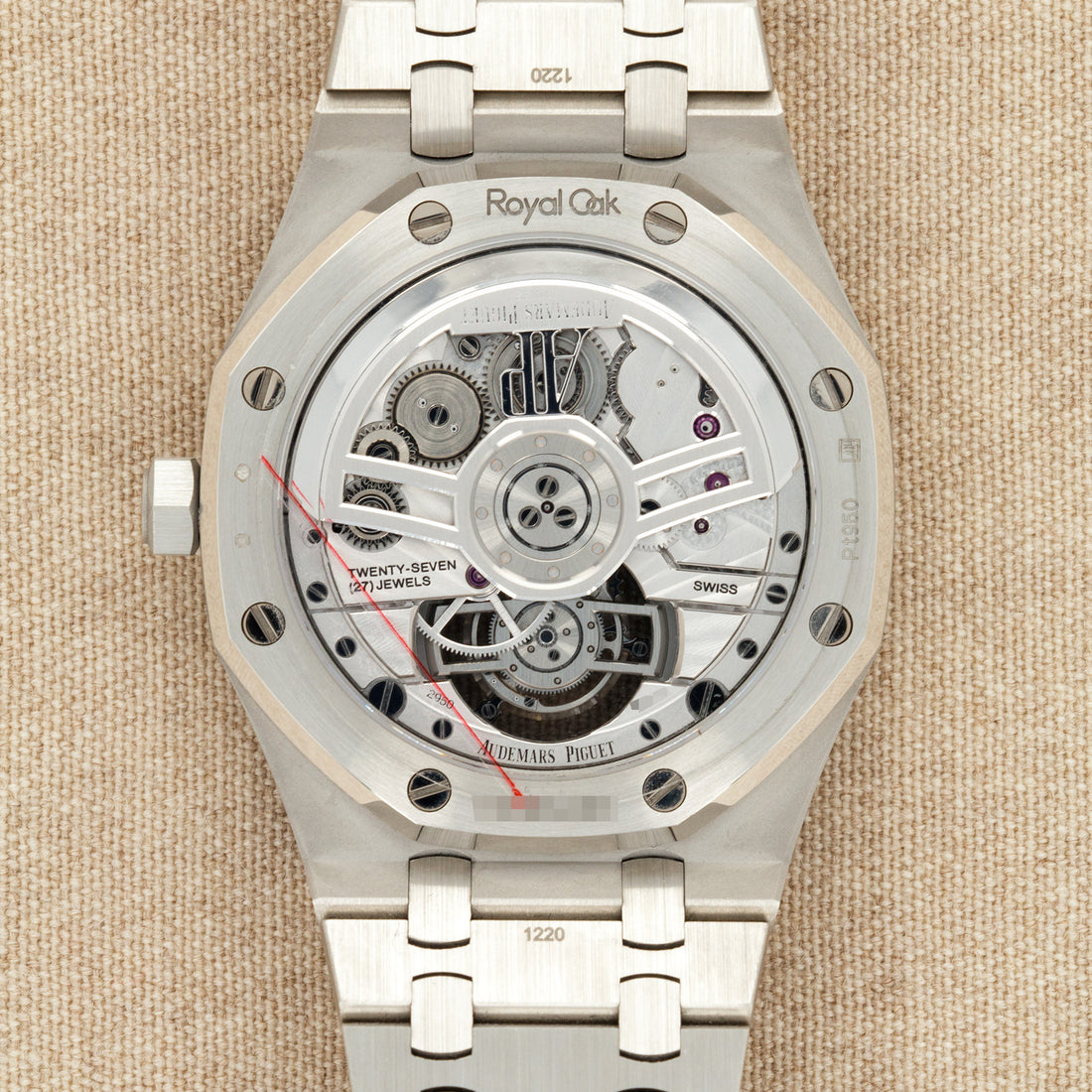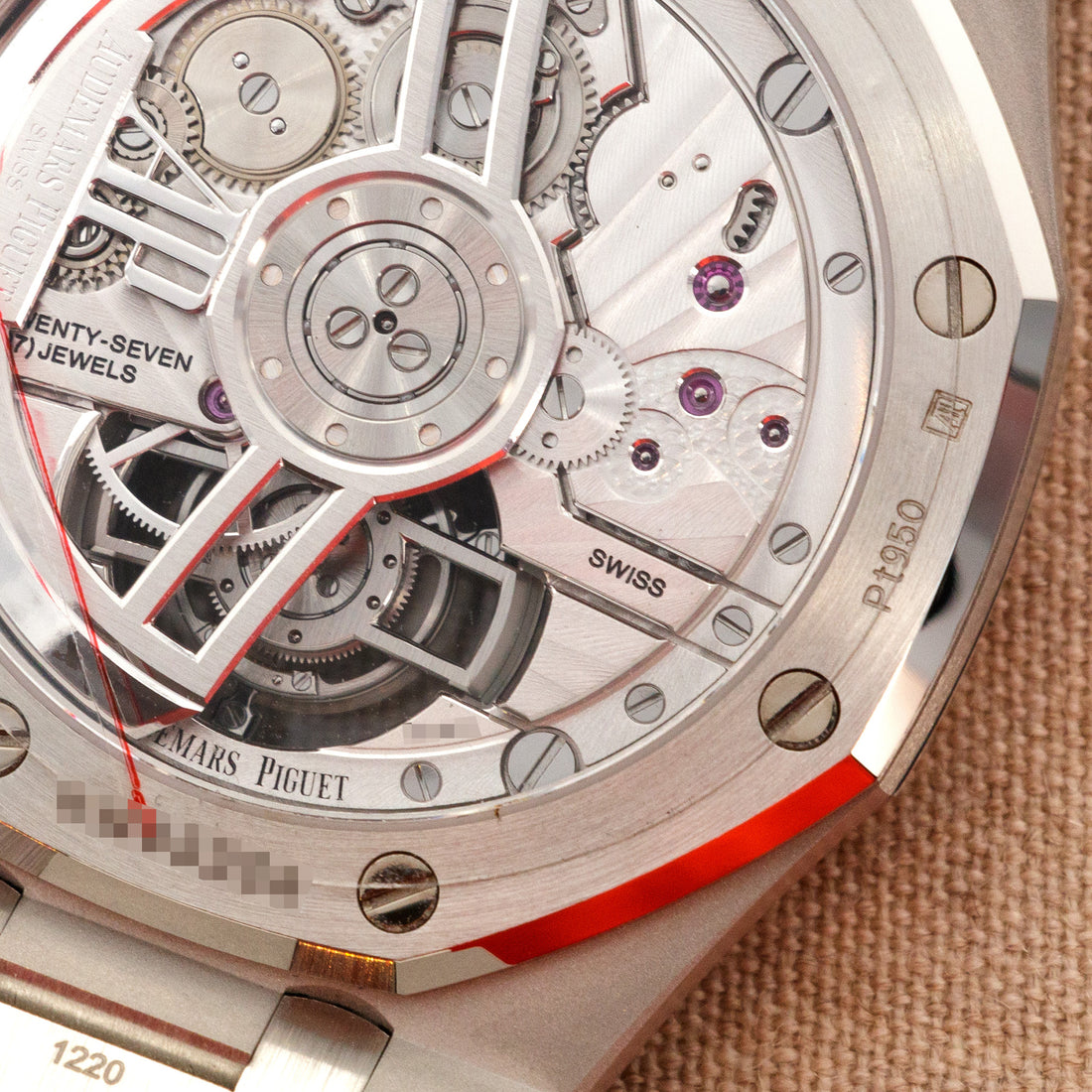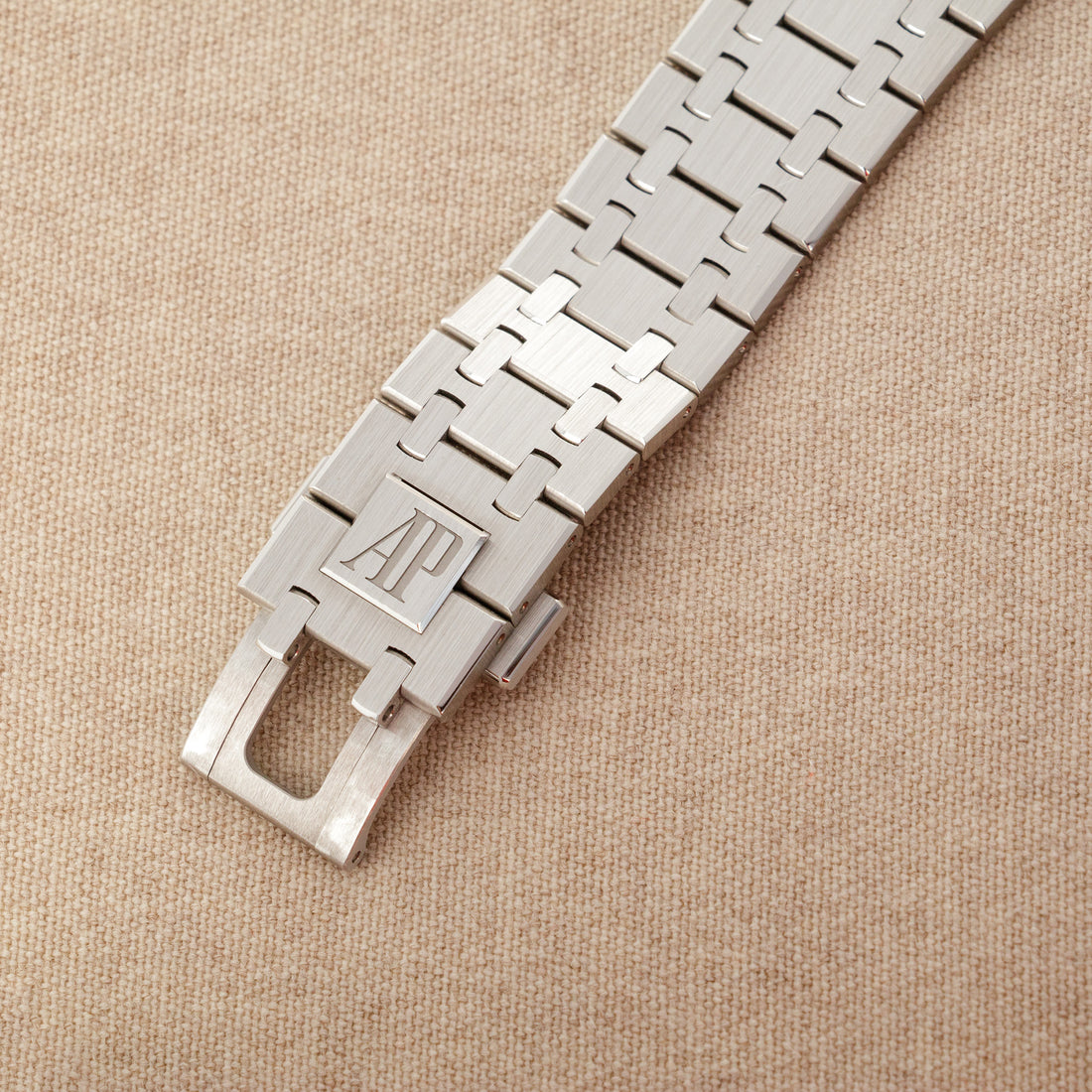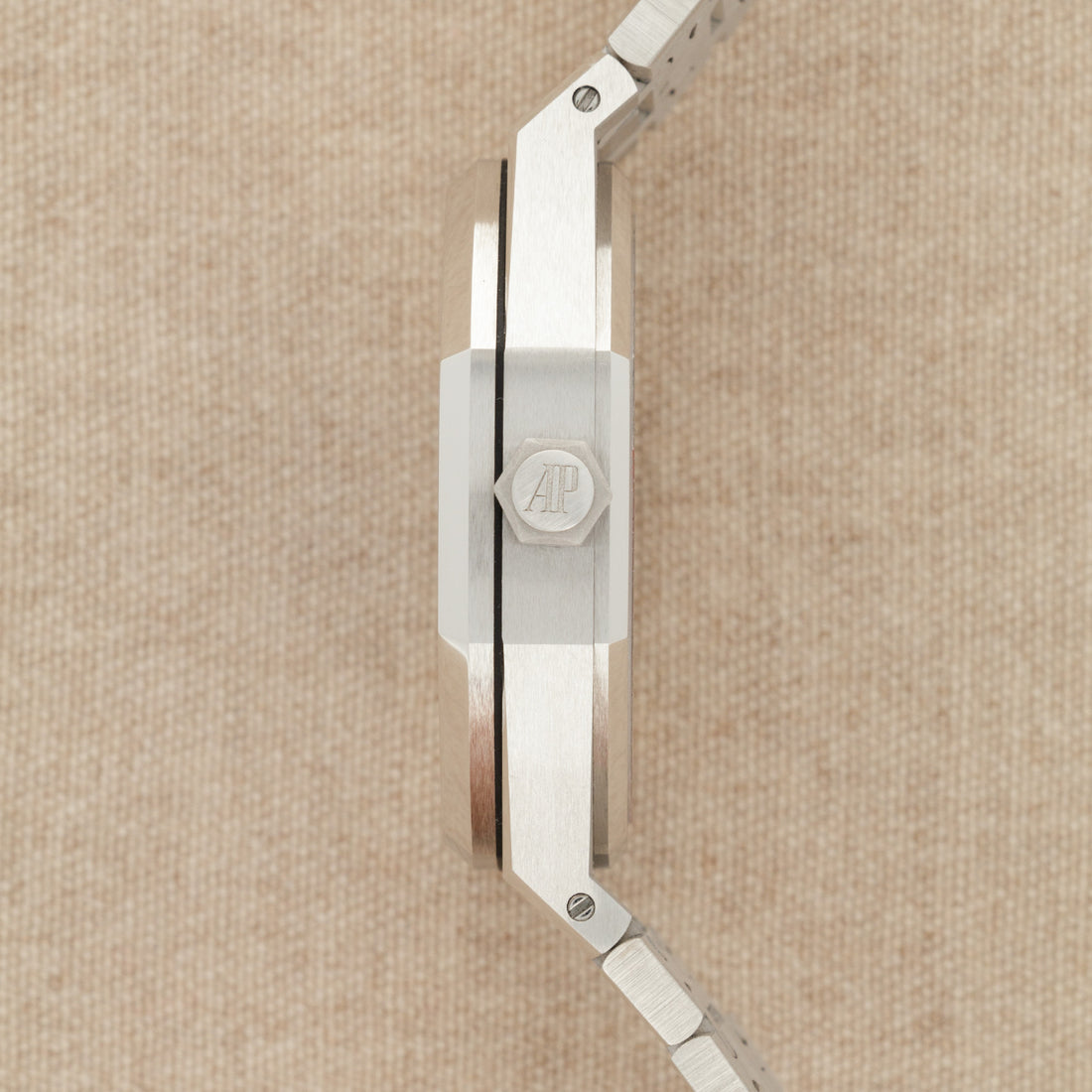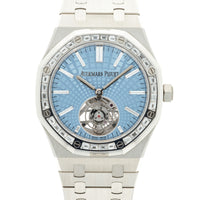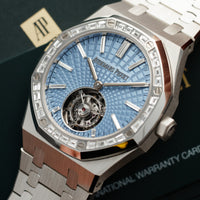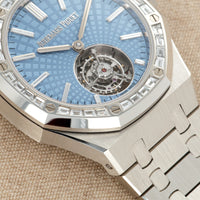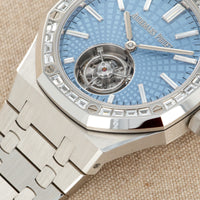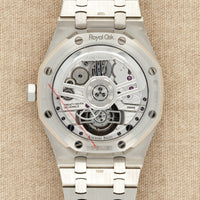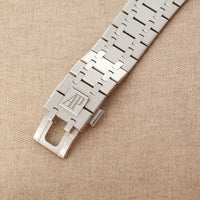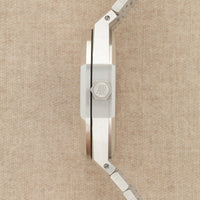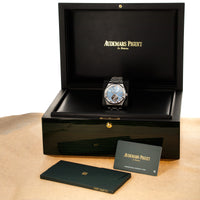 Audemars Piguet Platinum Royal Oak Tourbillon Watch Ref. 26535PT with Baguette Diamonds
Brand
: Audemars Piguet
Model
: Royal Oak
Reference
: 26535PT.ZZ.1220PT
Year
: 2021
Material
: Platinum
Dial Color
: Blue Sunburst Tapisserie or Evolutive Tapisserie
Dimensions
: 41 mm
Watch Movement
: Self-Winding
Bracelet/Strap
: Platinum
Box/Paper
: Box & Papers
Condition
: Unworn
SKU
: 183140
While the Royal Oaks design is an absolute classic within Audemars Piguets catalog, and the tourbillon is one of the brands signature complications, the two did not meet until the Royal Oaks anniversary in 1997 with the ref. 25831. From then on, AP has released very few Royal Oak variants with tourbillons. However, in 2020 this status quo changed slightly as AP began expanding the Royal Oak collection with tourbillon-wielding Royal Oak variants deserving of the legendary complication, one of which being the ref. 26535PT that we have here. Launched in late 2021, the ref. 26535PT merged a new dial color with a platinum 41mm construction to create an incredibly rare and stunning timepiece. Featuring a light shade of blue with an Evolutive Tapisserie pattern that radiates out from its flying tourbillon at 6 oclock, the ref. 26535PTs sunburst dial hypnotically draws the eye to its eponymous complication. A modern take on the Royal Oaks famed tapisserie dials, the Evolutive pattern is decidedly contemporary and fitting for a 41mm Royal Oak variant. Looking to make the ref. 26535PT even more exclusive than its 950 platinum construction and tourbillon; it also boasts 32 baguette-cut diamonds across its octagonal bezel, which sets this timepiece apart. Powered by APs automatic cal. 2950, which debuted in 2019, the ref. 26535PT combines the best of APs talents into one timepiece, with its platinum construction, delightful dial, and incredible movement standing as a testament to APs impressive watchmaking credentials.
Please feel free to get in touch with any questions. The best way is to email us at hello@thekeystone.com or text/call (213) 632-9061
If you are interested in selling or trading your watch, please include as much information as possible, as well as photos. You may also email photos to hello@thekeystone.com 
When a watch is purchased, our watchmaker will perform a thorough inspection of the movement and perform a number of tests to ensure the watch is functioning in top condition before shipping. This process can take 7-10 business days. 
Once your watch is ready, watches shipped within the United States are sent via insured FedEx Overnight and will arrive the next day. We will send over tracking information once the watch ships. 
International shipping can take a number of days considering customs and travel. Straps made from exotic materials banned for import will be removed from the watch prior to shipping.
We know it can be difficult be completely certainly that a watch's condition, size or shape is what you are looking for. 
We provide a 5 day inspection period from delivery so that you may receive the watch and decide if it is right for you. 
This is not a trial period; our watches are well documented and any wear or damage will be deducted from the return amount. 
At The Keystone, we accept payment via Credit Card, Bank Transfer and major Cryptocurrency Coins. Please reach out via email with any questions about payment to Hello@thekeystone.com