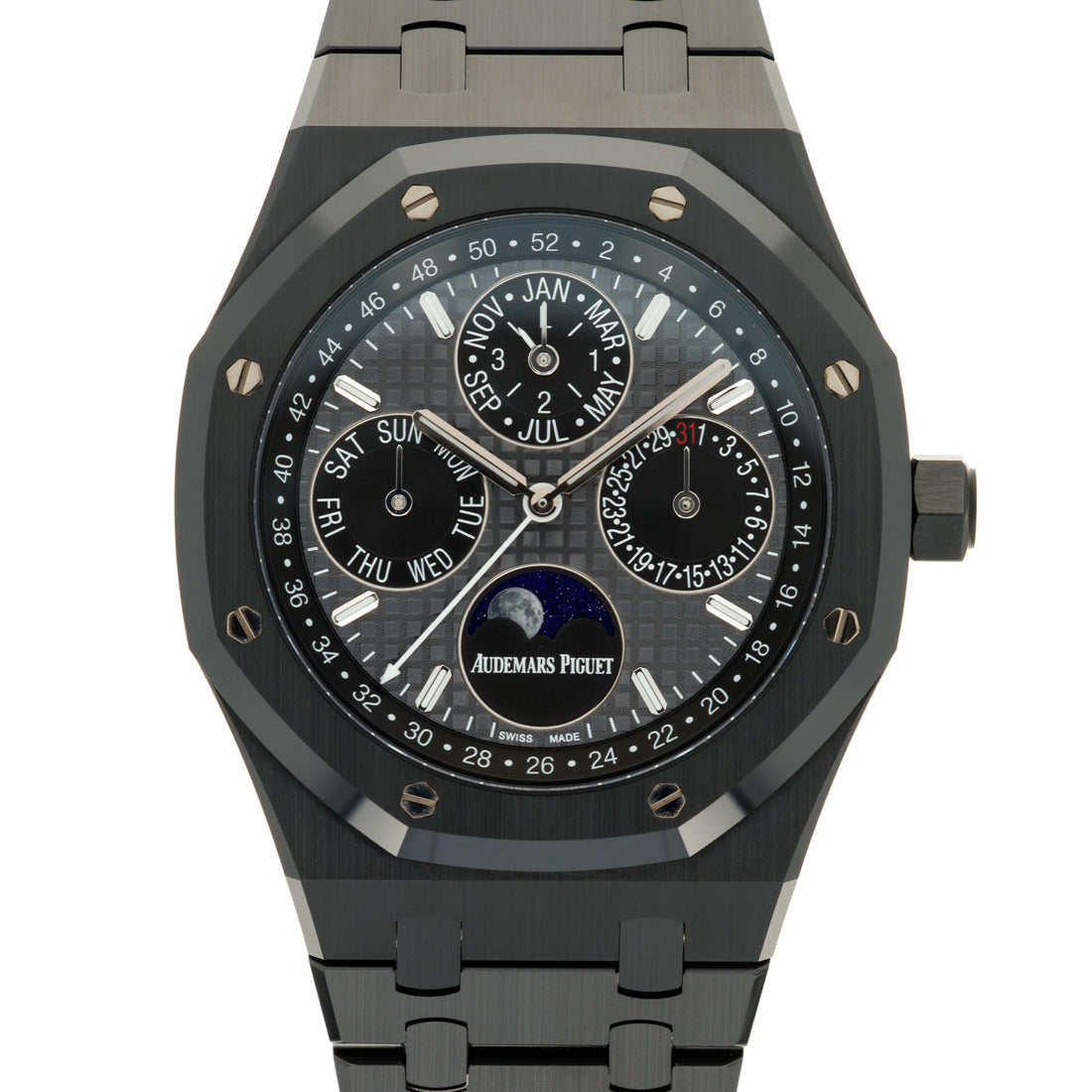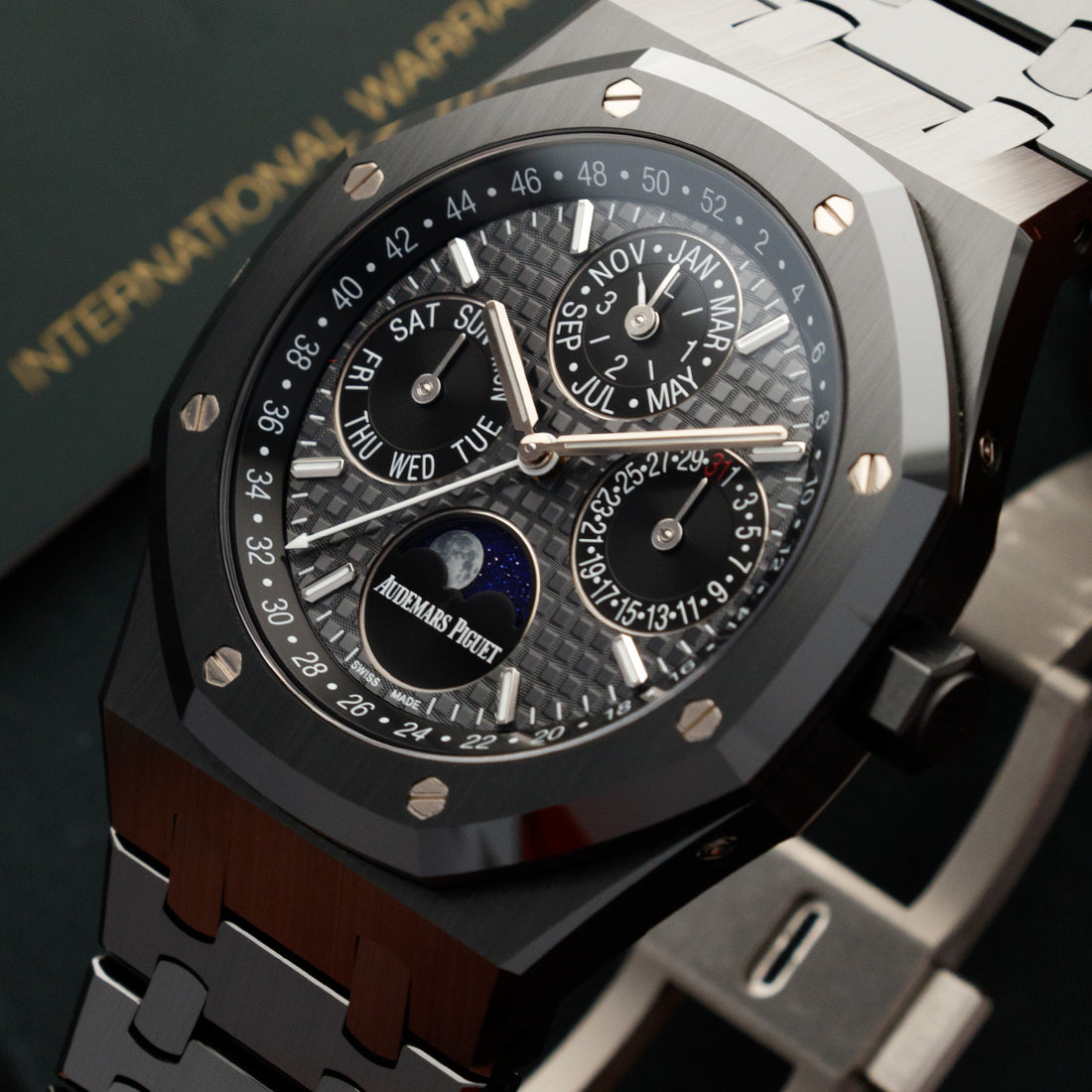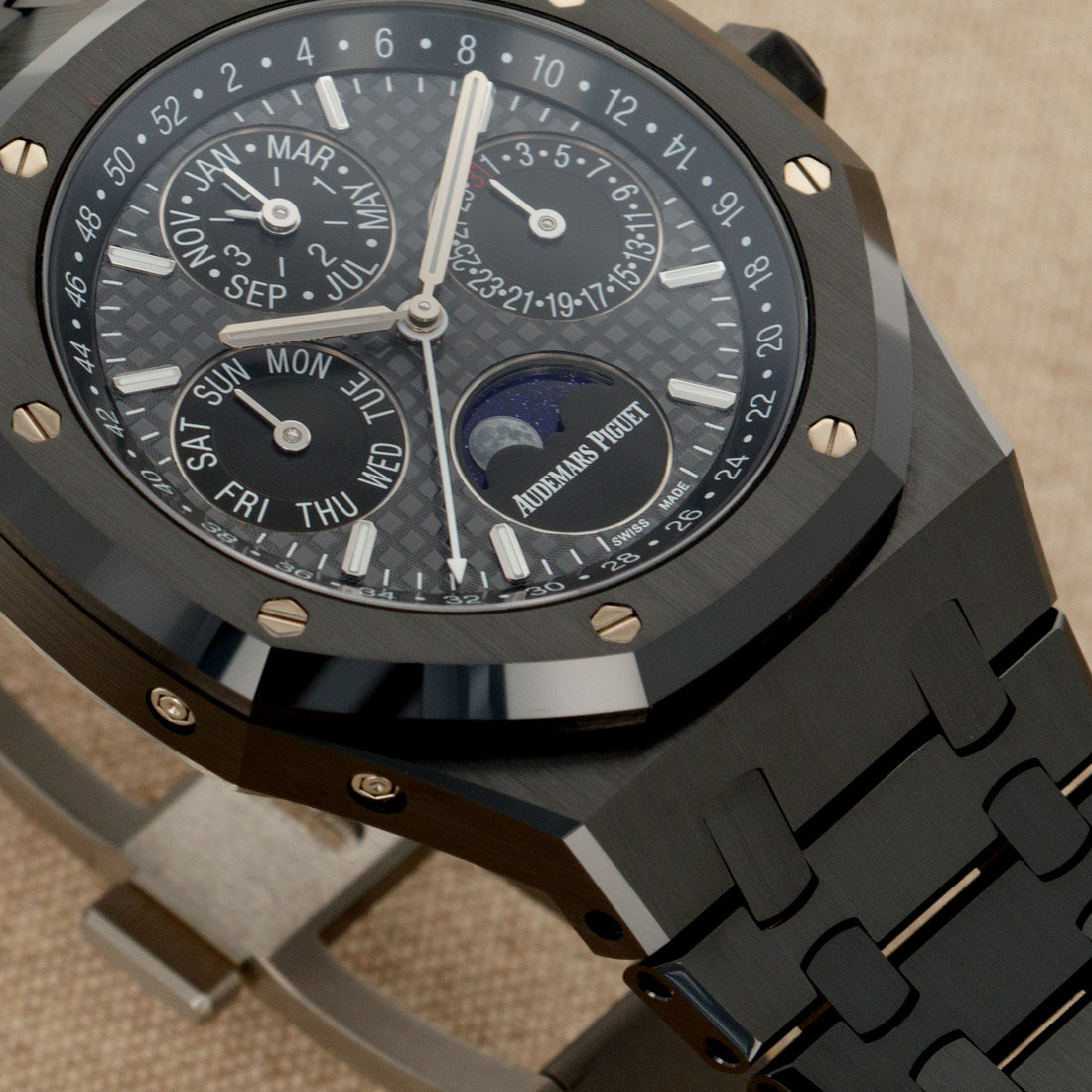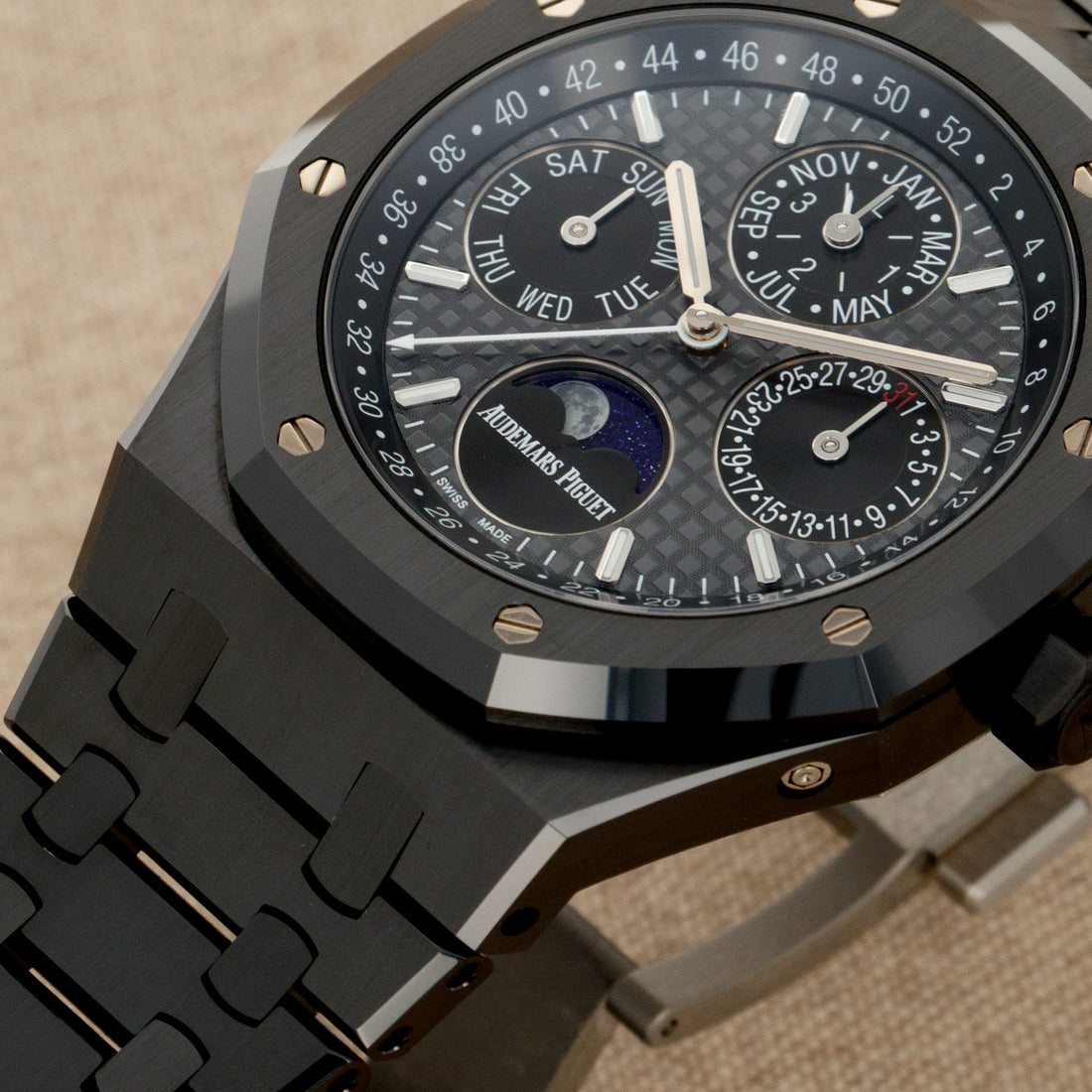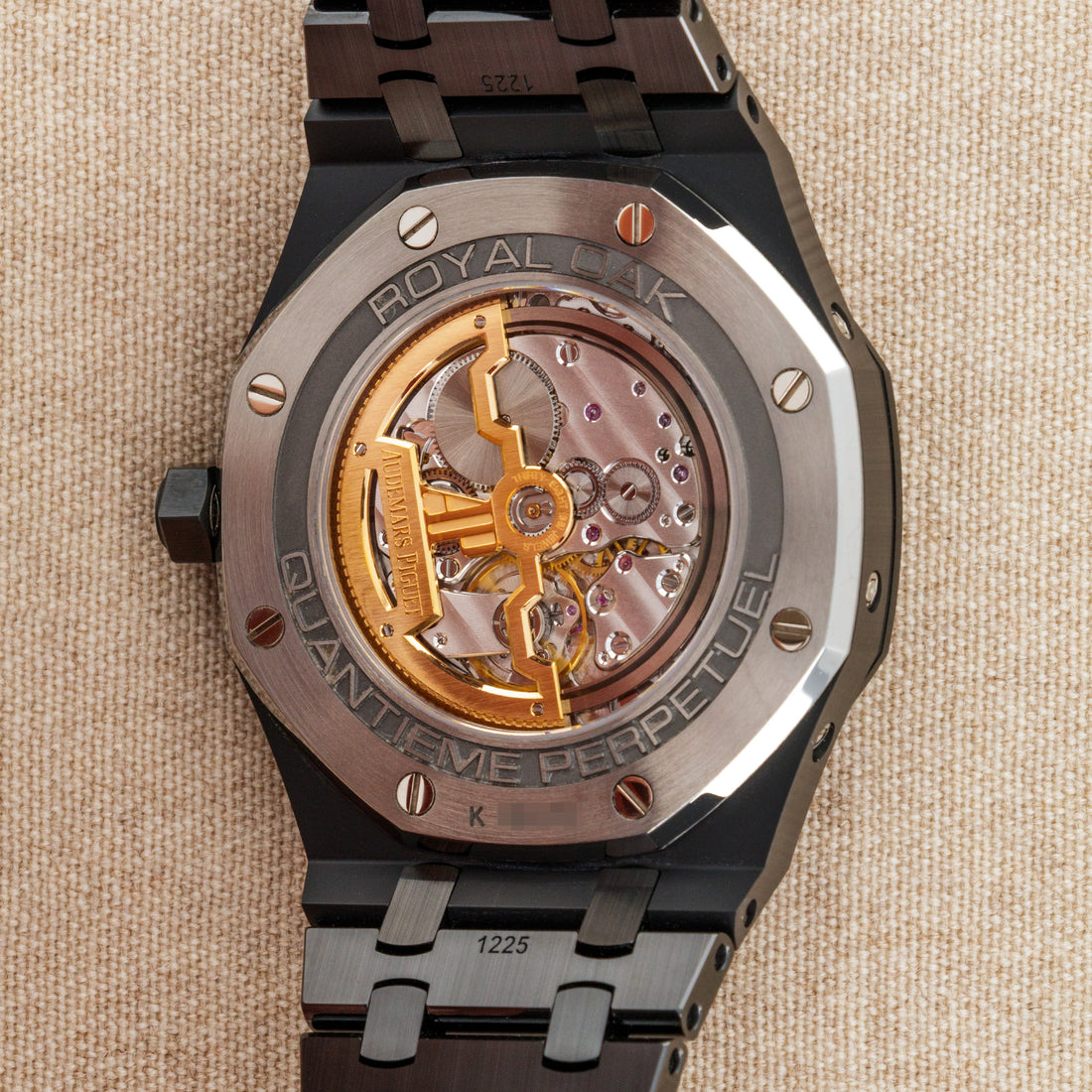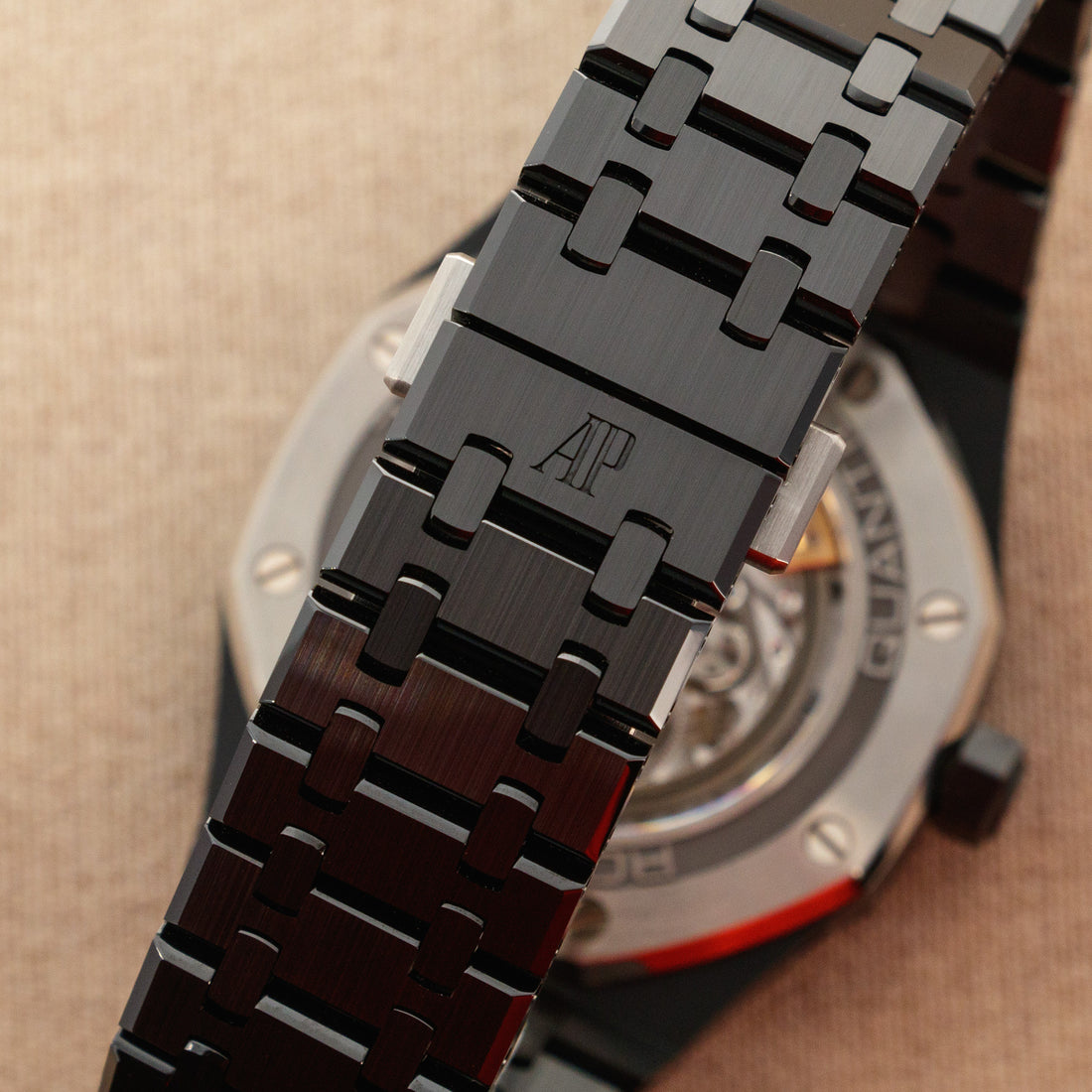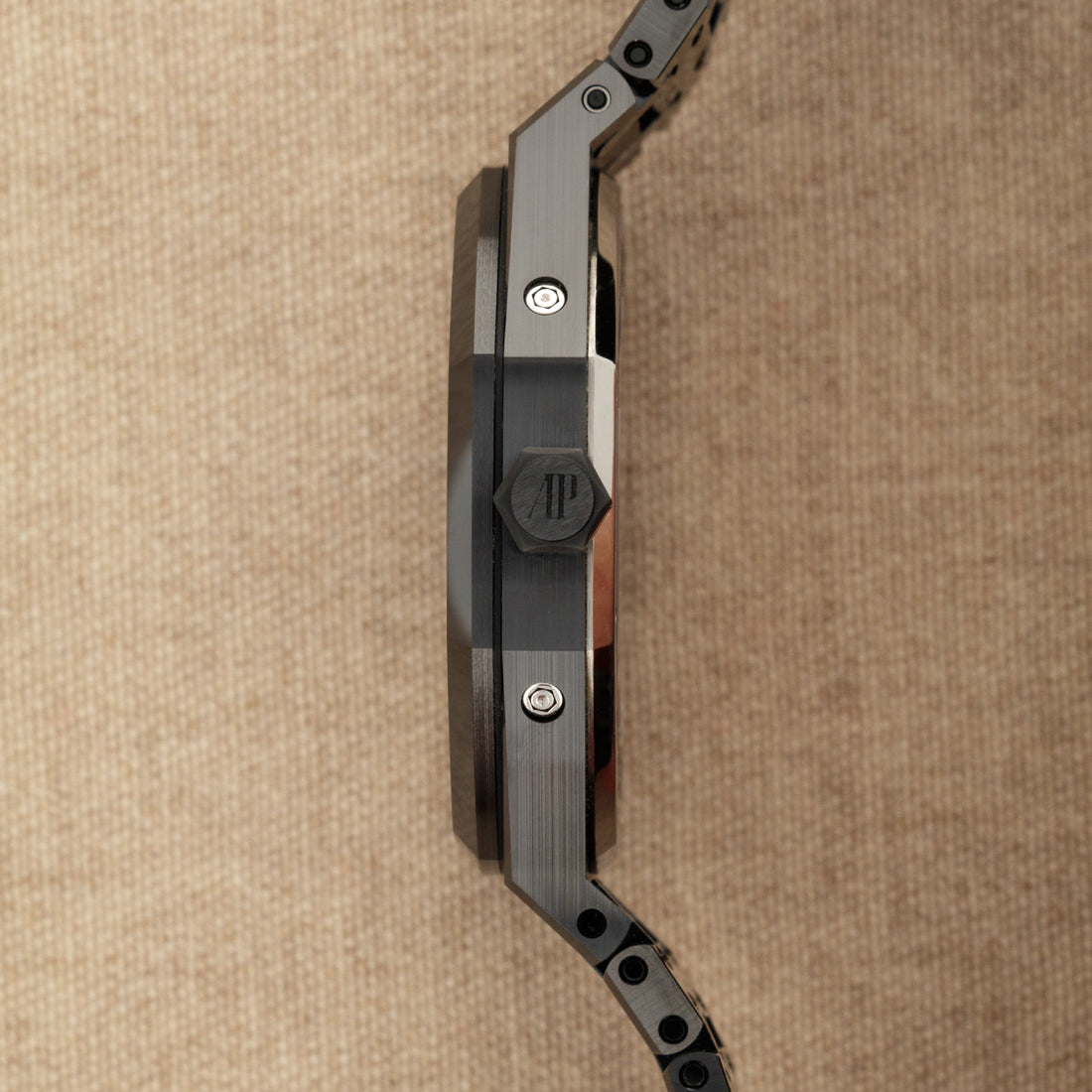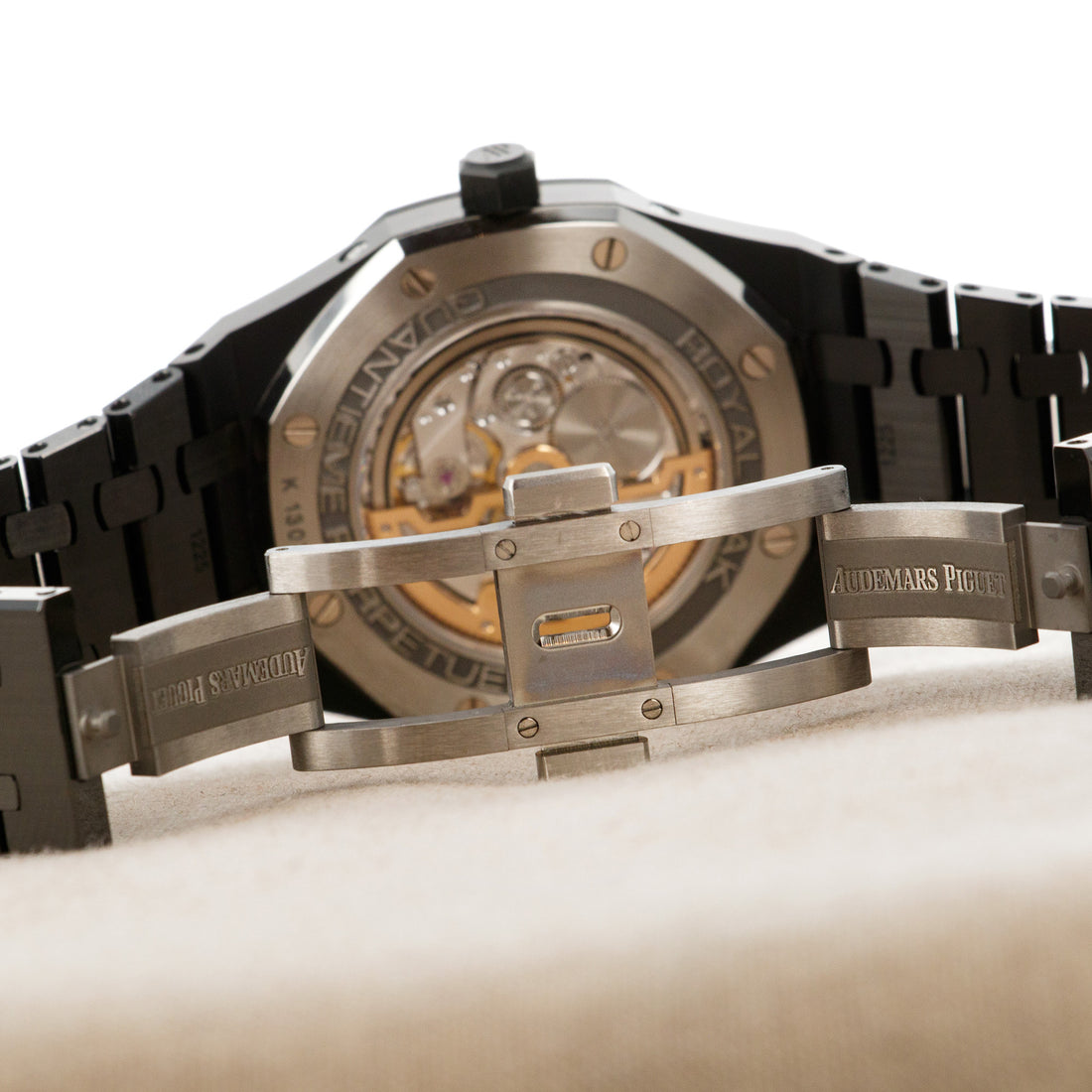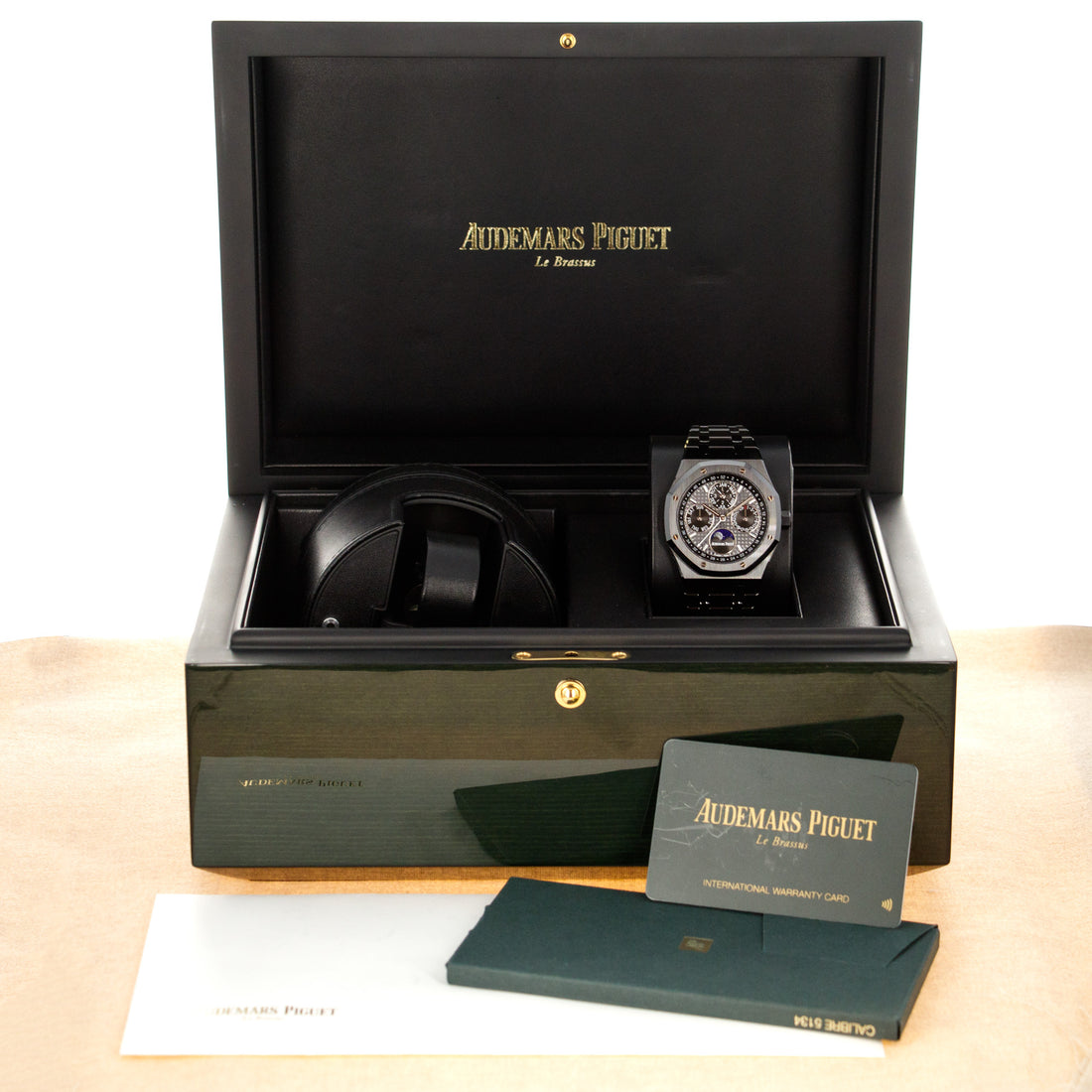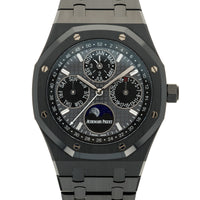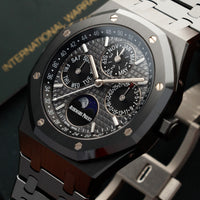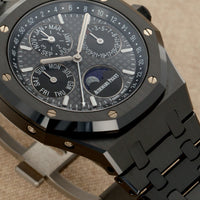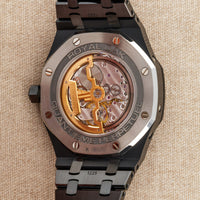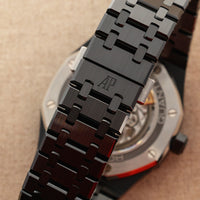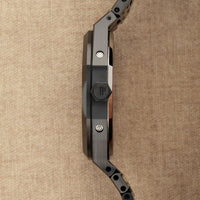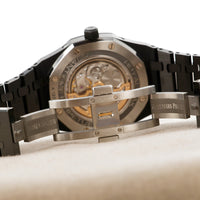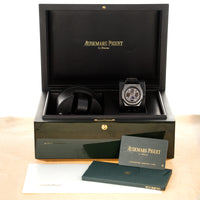 Audemars Piguet Ceramic Royal Oak Perpetual Calendar Watch Ref. 26579
Brand
: Audemars Piguet
Model
: Royal Oak
Reference
: 26579CE.00.1225CE.01
Material
: Ceramic
Dial Color
: Black
Dimensions
: 41 mm
Watch Movement
: Self-Winding
Bracelet/Strap
: Ceramic
Box/Paper
: Box & Papers
Condition
: Like New, Worn a Few Times
SKU
: 183315
It would certainly not be an exaggeration to say that the world of watchmaking is filled with timepieces that have garnered a lot of hype over the last several years. Still, few have become as renowned and sought-after as the ceramic Royal Oak Perpetual Calendar ref. 26579. Launched in 2017 and quickly emerging as the most desirable watch of the year, the ref. 26579 was the first ever all-ceramic timepiece, even complete with a ceramic version of the Royal Oaks famously intricate bracelet. All black as a result of its hand-finished ceramic construction, the ref. 26579 features a matching slate grey dial with the Royal Oaks Grande Tapisserie pattern a staple of the Royal Oaks aesthetic, with an aventurine moon phase display that adds a subtle pop of blue-black to the slate grey display. Measuring 41mm in diameter, the ref. 26579 is entirely modern as it combines the Royal Oaks contemporary sizing with the latest in horological material technology and one of APs finest movements, the automatic cal. 5134, which comes in at an ultra-thin 4.31mm and thus allows the ref. 26579 to measure a svelte 9.5mm thick. Incredibly light thanks to its ceramic construction and sitting flatter on the wrist than the majority of sports watches thanks to how thin it is, the ref. 26579 is an incredibly unique timepiece that has proven to deserve its praise and position as the timepiece that started the trend we are still witnessing five years later, with brands continuing to expand in ceramics like never before.
Please feel free to get in touch with any questions. The best way is to email us at hello@thekeystone.com or text/call (213) 632-9061
If you are interested in selling or trading your watch, please include as much information as possible, as well as photos. You may also email photos to hello@thekeystone.com 
When a watch is purchased, our watchmaker will perform a thorough inspection of the movement and perform a number of tests to ensure the watch is functioning in top condition before shipping. This process can take 7-10 business days. 
Once your watch is ready, watches shipped within the United States are sent via insured FedEx Overnight and will arrive the next day. We will send over tracking information once the watch ships. 
International shipping can take a number of days considering customs and travel. Straps made from exotic materials banned for import will be removed from the watch prior to shipping.
We know it can be difficult be completely certainly that a watch's condition, size or shape is what you are looking for. 
We provide a 5 day inspection period from delivery so that you may receive the watch and decide if it is right for you. 
This is not a trial period; our watches are well documented and any wear or damage will be deducted from the return amount. 
At The Keystone, we accept payment via Credit Card, Bank Transfer and major Cryptocurrency Coins. Please reach out via email with any questions about payment to Hello@thekeystone.com